White galley kitchen with splashes of colour
This kitchen was part of an extension but the kitchen space was open on both ends. So the clients wanted a design similar to that of a white galley kitchen, where there are two runs of units on opposite walls. The main difference here is that we included an island between the two runs.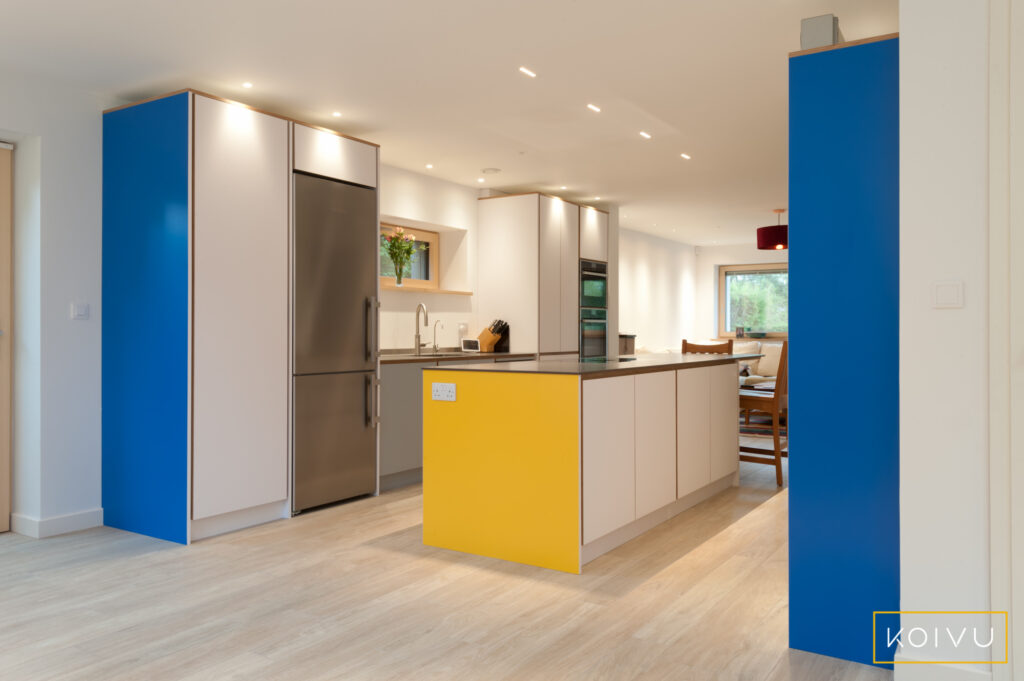 This design went through several transformations, as there were so many options for placing the different units. There were also numerous options for the widths of the different units.
We also had a challenge, in that parts of two existing walls remained in the new build and protruded into the space.
Finally, the worktop material that the client chose for the island was very thin. This meant it was too flimsy for the design of the breakfast bar. We were able to solve this issue by providing a piece of plywood, built into the island, for extra strength and support.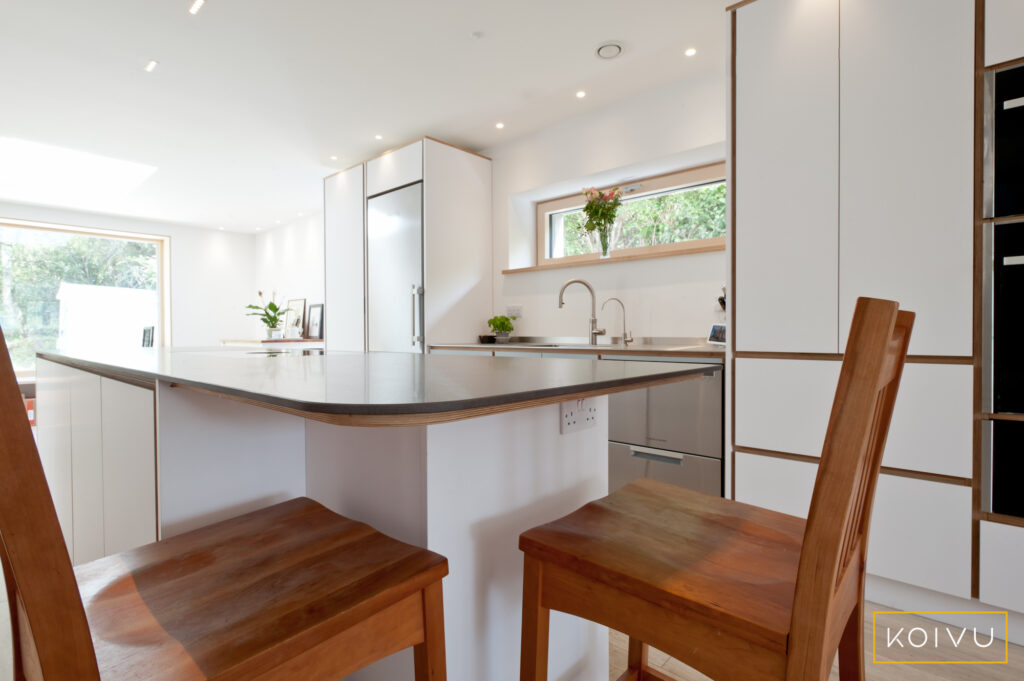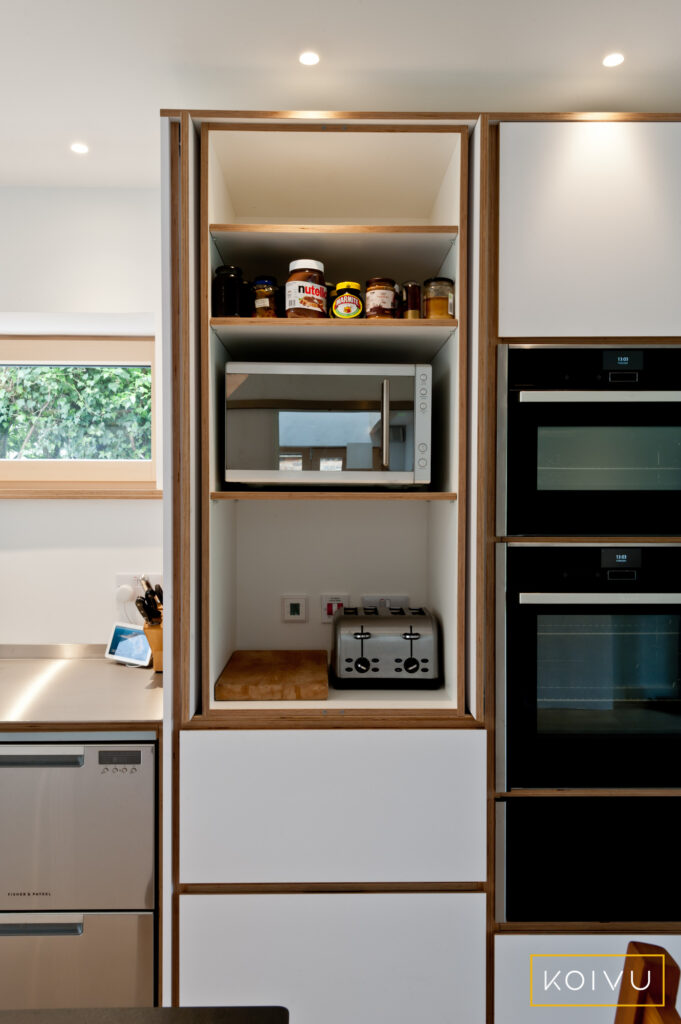 A butler's cupboard to keep things tidy
The design of this Harpenden kitchen was for open space with two runs on opposite walls, with an island in between. One wall has the more functional units including the sink, fridge and ovens. The opposite wall has shallow tall storage cupboards all the way along. There is also a slim larder, or butler's cupboard, with pocket doors. This is designed to house small items such as the toaster and the microwave, keeping them out of view.
The long kitchen island consists mainly of drawer packs and has a breakfast bar for two.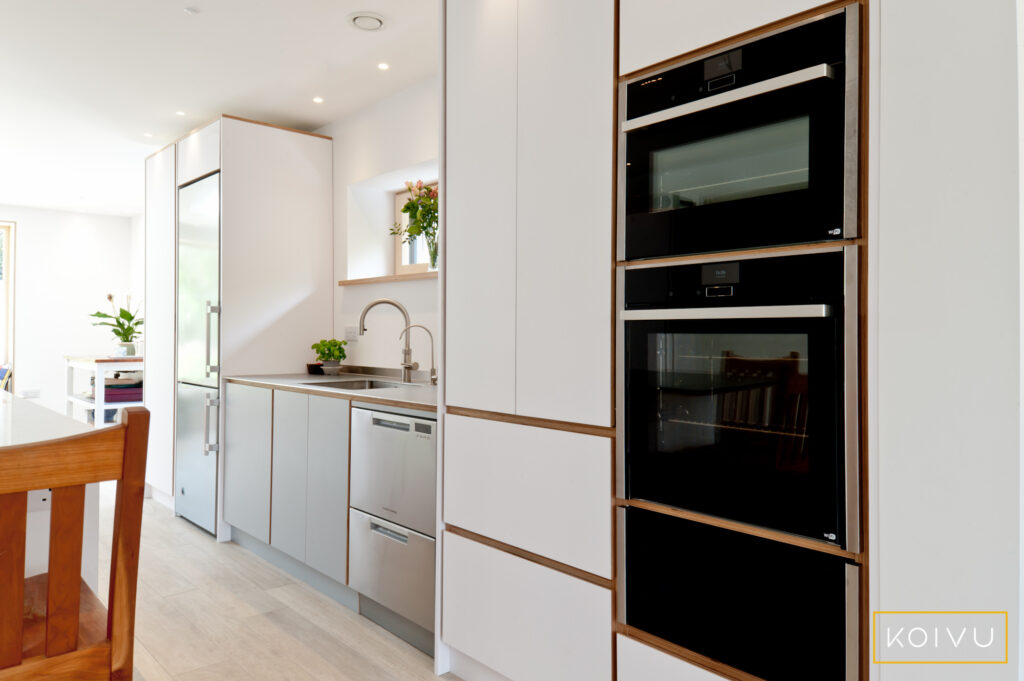 Positioning the appliances
This client wanted a Bora hob, which has the extraction built into it. Therefore, we had to plan the island in such a way as to accommodate this special hob. Under the hob, there are drawers, but the top one was designed as a dummy. As this hob has a recirculating extraction, we left a gap behind the unit and made the plinth slightly shorter to allow for flow of air from back into the room.
The client chose a freestanding fridge, so we designed a cupboard above it to match the height of the larder next to it. They chose two ovens and a warming drawer so we had to place all three in such a way that they would be at an accessible height.
The smaller appliances such as the toaster and the microwave are kept out of view in the butler's cupboard.
Finally, the worktop around the sink has two tap holes – one for a standard tap and one for a boiling water tap, which removes the need for a kettle sitting on the worktop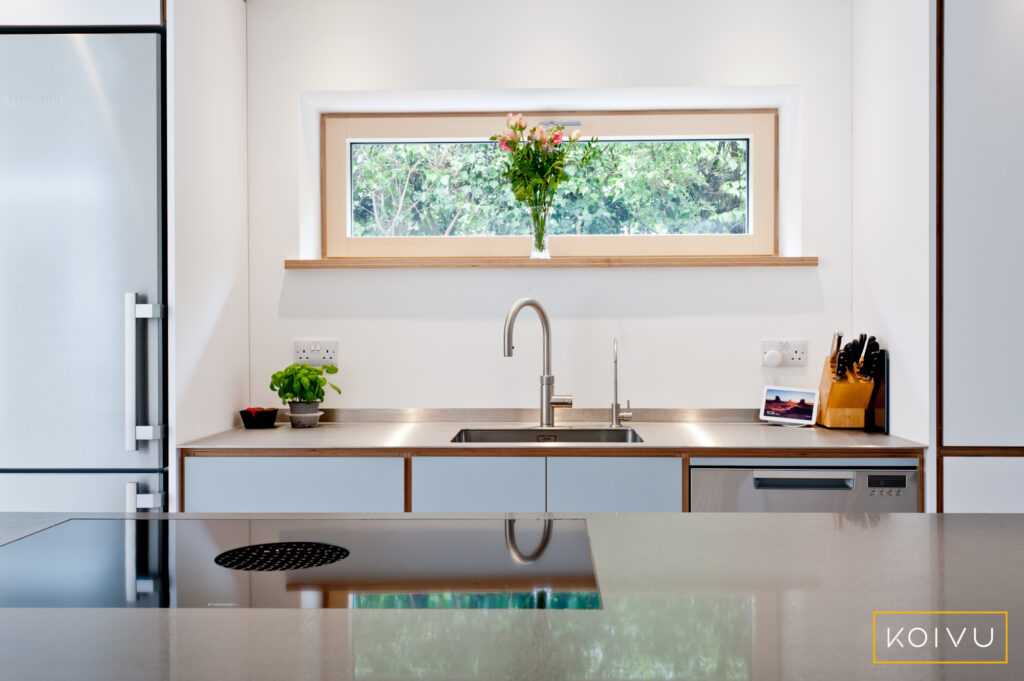 What do you think of this white galley kitchen in Harpenden?
Check out this white and yellow galley kitchen in Tunbridge Wells or this white and yellow kitchen in Herne Hill.

And when you're ready to get started, request your sample pack using the link above.