Your kitchen – it's where memories are made
It's where you cooked for your spouse during a long-ago date. Where you taught your baby the joys of eating (and throwing!) good food. It's where you've put the world to rights with old friends over a glass of wine. And where you sat nursing a cuppa, late one night, counselling your heart-broken teen.
Your kitchen is the heart of your home; it's where life happens.
Make sure yours reflects who you are.
What makes us different?
A Koivu kitchen will quickly become the hub of your house. Gorgeously tactile and built to fit, your new kitchen will feel somehow familiar – like a hand-crafted piece of furniture that's been designed especially for you.
We've ploughed time and effort into finding the most beautiful, durable materials we can. We're proud to use:
Finnish birch plywood from supplier Wisa – so strong it's used in ship building and construction projects worldwide. Wisa birch plywood is completely waterproof and so hard-wearing you'll never need to worry about your units swelling with damp or becoming fragile with age.
FENIX – billed as a 'new material for interior design', Italian-made nanotechnological FENIX creates an almost unbelievably perfect kitchen worksurface. Antibacterial, anti-fingerprint, soft to the touch and scratch-resistant to the point that any micro-scratches that do occur can repair themselves when heat is applied – you'll struggle to do any damage to a FENIX worktop.
Formica – with a century-long history in laminate, Formica is a stylish, affordable alternative to natural stone worktops. Water repellent, anti-marking and anti-fingerprint – Formica stays looking great even in the face of regular wear and cleaning. And what's more, there are 120 colours to choose from – so you're bound to find one to suit.
Together with the skill and experience of our design team, these materials create a sleek contemporary look with clean lines and practical touches that delight their users in ways they never imagined.
And it's not just about today. A Koivu kitchen will look beautiful for many years to come – the perfect place to create a lifetime of memories.
"The team at Koivu worked with me to design my perfect hand crafted kitchen. The design is not only beautiful and so, so cool but functionally meeting my exacting requirements to boot. Doug went out of his way to make sure that everything was perfect. I would not hesitate to recommend Koivu."
Heather Hall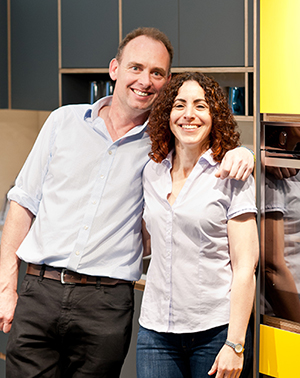 Behind the brand
Koivu is run by husband and wife team, Doug and Keren Sutherland – both passionate about providing beautiful, high quality kitchens at an affordable price.
But affordable doesn't mean skimping on quality. Far from it.
As a professional kitchen designer of over 20 years, Doug has worked for big brands and independents alike. He has seen kitchen companies cut corners on materials or use sub-par components to keep the price down. So, he decided to do things a little differently.
He wanted to create kitchens using only the most beautiful materials.
Kitchens that are truly designed around the people who will be living in and using them, with imagination as the only limit to design.
And he wanted to provide a kitchen buying experience that is second to none.
THAT is what Koivu is about.
Get in touch to find out more about how a Koivu kitchen could work for you.