The psychology of colour in your kitchen
If you had completely free rein, what colour would your kitchen be? Would you prefer bright red? Or sleek black? Clean, crisp white or calming blue? Did you know, your choice of kitchen colour says a lot about you as a person? And not only that, but it can also impact the way you think and feel on a daily basis – making it something that's pretty important to consider as far as we're concerned.
Colour naturally comes up a lot in the design discussions we have – after all, we offer over 100 different options when it comes to our bespoke cabinets (depending on your choice of finish). And very often we end up chatting about why people prefer one colour over another, or how 'brave' they're willing to be when it comes to colour.
That's why we thought it might be interesting to enter the realms of colour psychology in interior design, to dig a little deeper and look at what the colour of your kitchen says about you.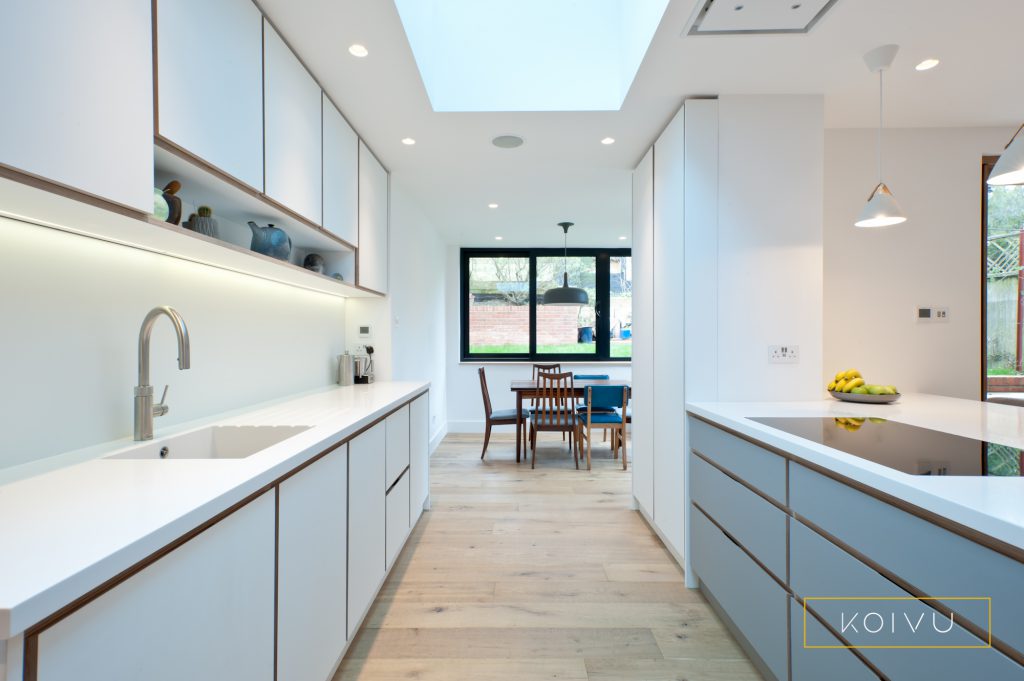 Choosing a white kitchen
Back at the end of last year we talked about white kitchens on the blog. From the illusion of space to a safe choice that won't go out of fashion, we covered many of the reasons why white can be a great choice of kitchen colour. But how does a white kitchen make us feel? And what does it say about its owner?
White is the colour of cleanliness and purity – there's a reason it's used in medical settings as it makes us feel that it is hygienic. If you're a fan of the simplicity of Scandinavian design you may feel white is a great backdrop or neutral pallet to channel your inner hygge. Done wrong, white can feel cold and overly modern, but if it's designed with well-considered colour accents or accessories it can take on whatever 'feel' you desire.
According to psychologists white-kitchen-lovers are fans of the clean classic look, have a love of organisation and enjoy getting stuck into a good old deep clean.
Choosing a black kitchen
There's no getting away from the fact that it's difficult to make a black kitchen work well. But providing you have some space to play with and plenty of light flooding in, there's absolutely no reason it won't look stunning.
Yes, it may be a little dark and dramatic, but why not? If you're one with a penchant for the dramatic, you might find it suits you down to the ground. In fact, lightened with copper or other metallic accents we can't help but think black lends an affair of sophistication to a kitchen.
Especially in the soft, tactile matt black of our plywood kitchens. In fact, if you fancy a black kitchen but you're too nervous to go all in, you might find that the plywood detailing breaks up the colour perfectly, lightening the overall feel of the room.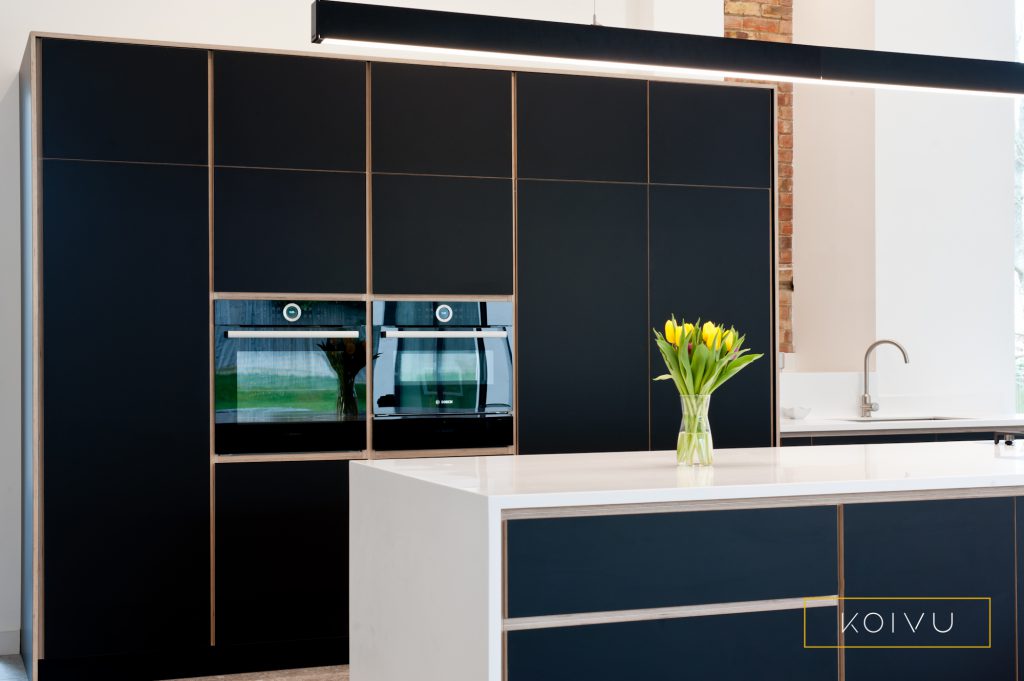 Choosing a grey kitchen
When it comes to unit colour, grey is a pretty safe choice. It's calming, soothing, not too outlandish and extremely easy to live with. It doesn't have the stark nature of white or the overpowering feel of black.
Grey is a colour that has been on-trend for a number of years and depending on tone can work as a neutral with almost any other colour as an accent. And that's the beauty of it – grey works as a 'blank slate' that can be updated as and when you wish – perfect for colour-commitment-phobes who want to steer clear of white but aren't ready to go bold.
Choosing a blue kitchen
Blue is known to be a cool and calming, making it a great choice for a room that tends to be warm. It can also create a relaxing space, meaning it's often popular in the bedroom. But can it work in the kitchen too?
Yes, definitely it can. There are many different shades within the blue family, from teal green blues to pale blues to navy, each has a very different impact on mood and is likely to appeal to a different type of person.
Navy, in particular, is a popular colour for kitchen cabinets – it's a great choice if you fancy pushing your style just a little outside of your comfort zone. It's different enough from white and grey, but not so different it'll draw too much attention. Perfect if you have a relatively measured attitude to risk, but wish you were a little bit braver. It's a classic, tried and tested look which, with the addition of metallic accessories, can look incredibly elegant and stylish.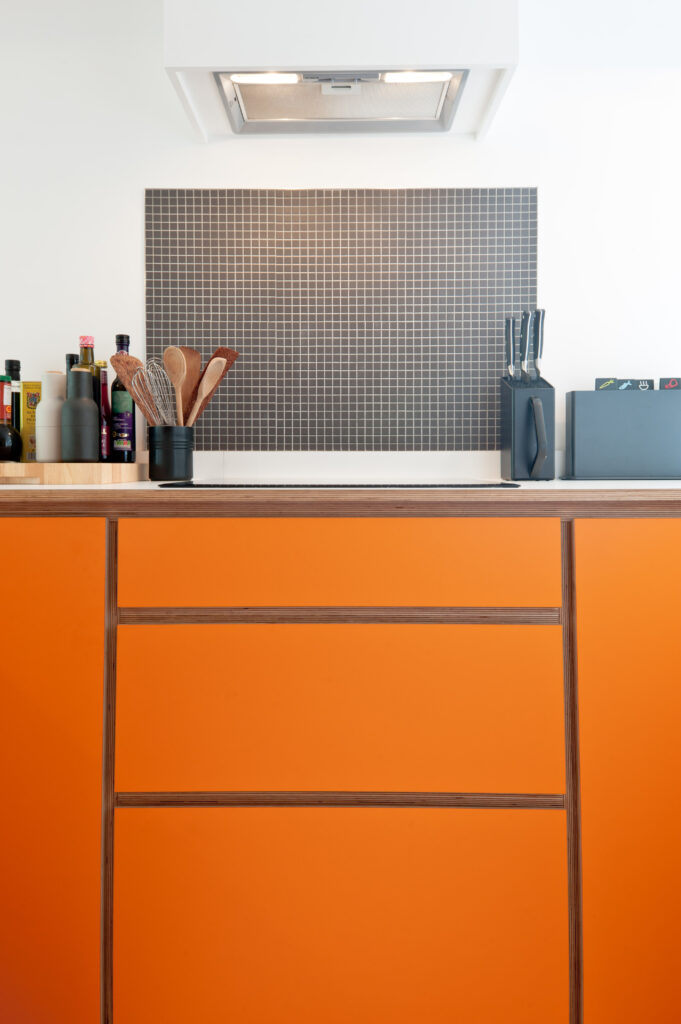 Choosing a red kitchen
In Eastern cultures, red is the colour of good luck. It's bold, optimistic and energetic and is even said to increase appetite.
Let's not beat around the bush, you've got to be a fairly confident person if you are considering installing a bright red kitchen. It's not a choice for the feint-hearted, and it's certainly not one for people who might be concerned about the opinions of others. While the right red kitchen in the right place can look absolutely stunning, there will be plenty of people who don't agree and would, themselves, go for a more neutral option.
Bright red is a powerful colour, it's a passionate colour, but opt for a rustier shade and it can feel warm, cosy and earthy too.
It might be that an entirely red kitchen is just too…well red…for many tastes, so if red is your thing, maybe think about introducing it in highlights or accessories instead – this could be a more palatable way to introduce your favourite colour.
Choosing a yellow or orange kitchen
Similar to red, orange and yellow are warm colours that are often seen as bright, fun, and energising. Again, perhaps these can be a little overwhelming if used in large quantities, but they, too, add a nice pop of colour when added to a more neutral scheme. That said, we've had clients who have really gone bold and it has paid off in spades. This yellow kitchen from Koivu is absolutely stunning and has even been featured in a number of kitchen articles online.
Of course there are lighter shades of yellow and orange too: pale lemon, peach or terracotta. These can create a cosy atmosphere – think Spanish cocina for inspiration.
From our experience, you have to have a certain zest for life to opt for a bright yellow or orange as your choice of kitchen colour. It might be unconventional, but who wants to blend in when you can stand out, right?
Fancy just a pop of colour?
If, like many of our clients, you fancy a but of colour to brighten up the place but can't get away from that crisp, clean, white kitchen that's in your head, why not combine the two? A funky coloured island, feature cupboard or contrast side panel can really brighten up the place without becoming too overwhelming. And the beauty of choosing a bespoke kitchen, such as a Koivu Kitchen, is that you can have any combination of colours you can dream of.
What do you think? Does this make you more comfortable with the idea of a bright colour?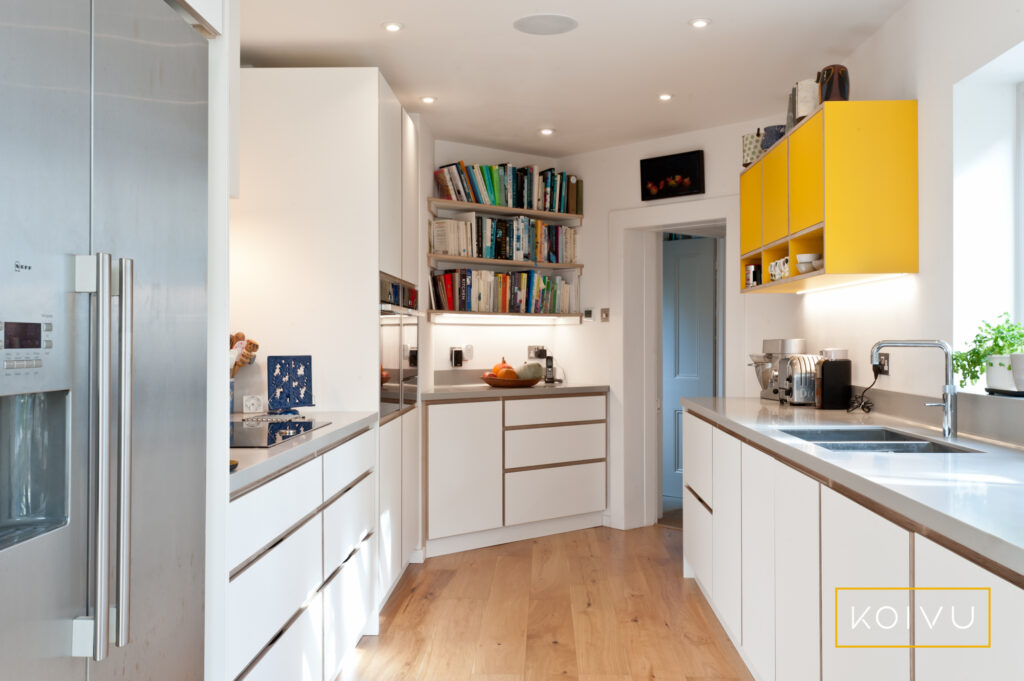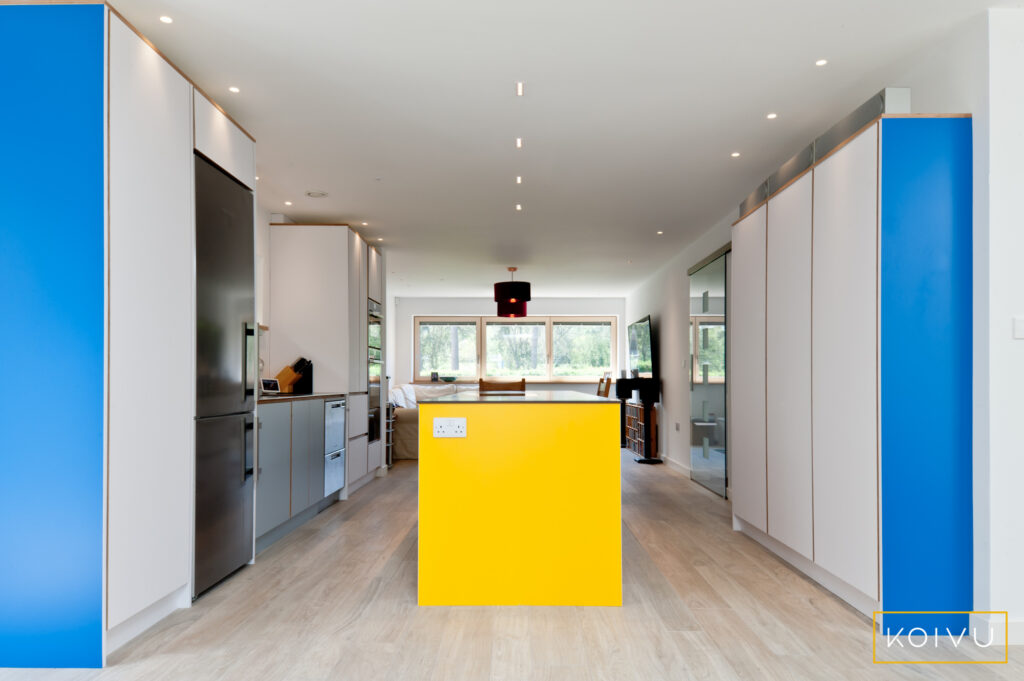 If you're looking for ways to bring more colour into your kitchen, why not contact our experienced design team for a chat. You might even find they can help give you the confidence you need to take the plunge with your favourite colour.