We know it can be hard to make a decision about an investment as big as a kitchen, without seeing what you're buying in real life. That's why we're proud to announce that you can now take a look at a KOIVU kitchen in the wild by visiting our very own shipping container showroom.
Positioned in the grounds of our busy workshop, close to Hever Castle in Kent, our newly refurbished shipping container offers the opportunity to visit and see for yourself the craftsmanship that goes into each and every one of our kitchens.
And while you're there you can even take a peak inside our workshop, meet Doug and the gang, and get to the heart of what Koivu is all about.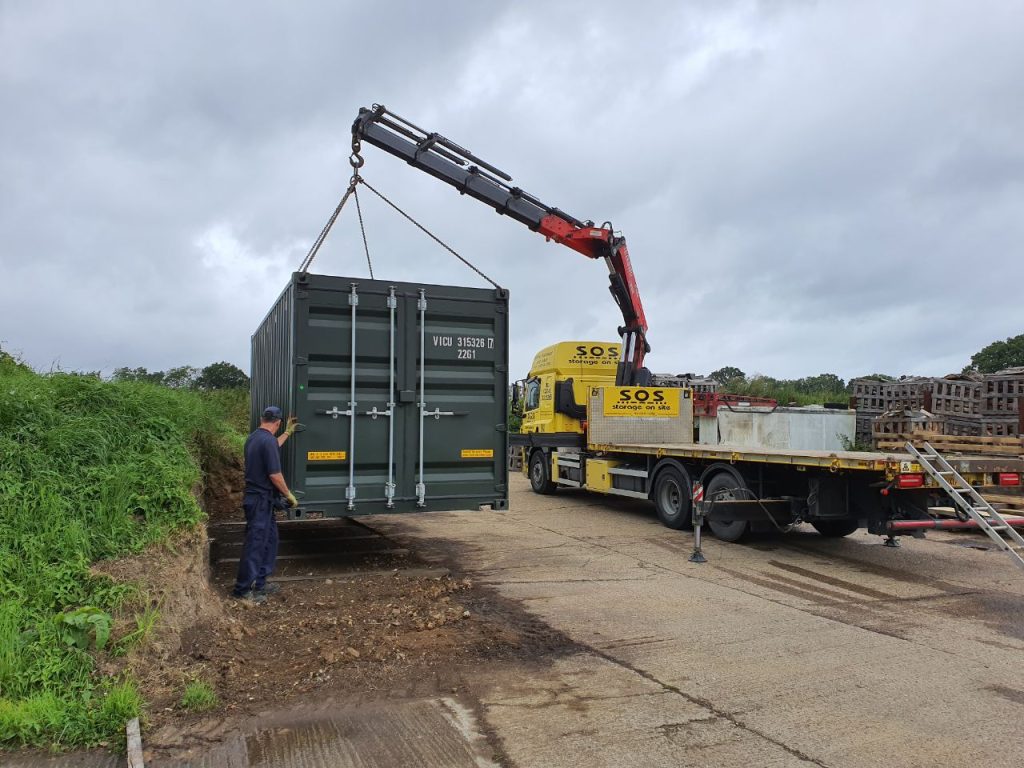 What will you find in our new kitchen showroom?
Perfectly proportioned, our demonstration kitchen shows off many of our favourite Koivu features. From wall units to worktops, drawer inserts to mechanisms and even some of our favourite partner appliances. You'll be able to stroke, fiddle and 'stress-test' to your hearts content.
You'll also find a wealth of beautiful colour samples so you can really get to grips with your options and work out whether our birch plywood kitchens are the right choice for you.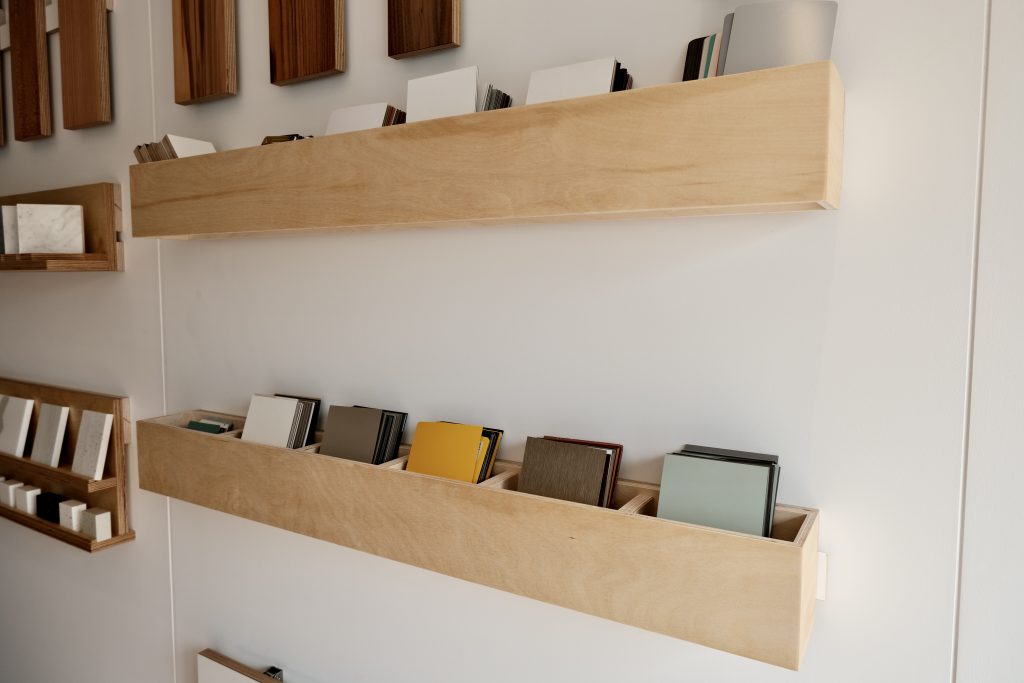 Of course we can also arrange for samples for you to take home and try out if you wish, so you can compare and consider options against other kitchen providers.
Experience a fully working Koivu kitchen
Run your hand over the tactile surfaces, feel the pleasing weight of the doors and drawers and marvel at the smooth handleless lines. You can only get so much of a feel for the beauty of our workmanship through looking at photos alone.
That's why we invite you to wander among the units, envisage yourself in the space and begin to imagine a KOIVU kitchen in your own home.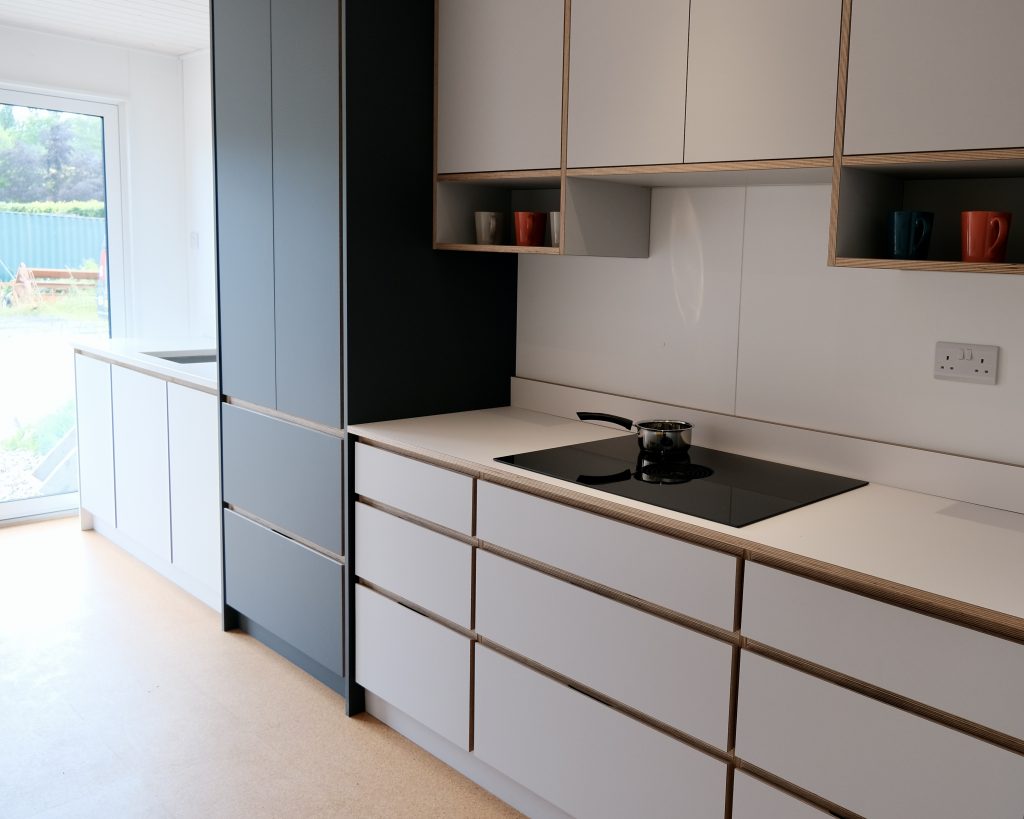 Get some ideas to support your new kitchen planning
If you have specific requirements or problem areas and you're wondering if a bespoke kitchen would be best, the KOIVU team member who meets you at the showroom should be able to help.
We're always happy to talk design ideas and plywood possibilities, and to start helping you bring your plans to life.
What to do if you want to visit our kitchen showroom?
We currently open our KOIVU kitchen showroom by appointment only, as we're not in a position to staff it full time.
But if you'd like to visit us, all you need to do is give us a call. We'll be happy to arrange an appointment to suit you during working hours.
If travelling here during the week is just not possible, don't worry. Get in touch with us directly and we should able to arrange a Saturday morning appointment instead.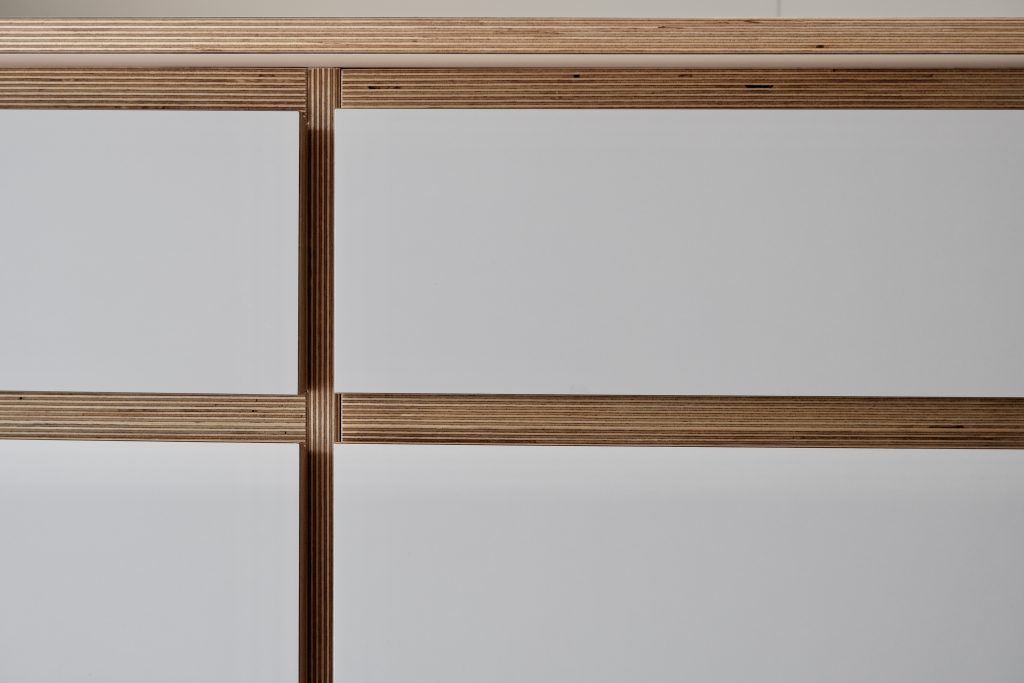 What happens next? After your visit.
If you been down to our new kitchen showroom, like what you see and you want to proceed, the next thing we'll need from you is your kitchen plans and measurements. As well as an idea of the colours and styles you liked. We can then book in a design consultation with our talented team. They will go through your ideas with a fine tooth comb and ask plenty of questions to make sure your new kitchen will work hard for you and be beautiful too.
We'll make sure we send any samples you've requested so you can check them against other elements of your design, and we'll be on hand if you think of anything else or have any other questions.
Following the consultation you will receive a design package, which includes 3D images and a full quotation. This first design will take into account your special requirements and offer solutions, but it will normally require fine-tuning and further consultations. However, this first stage is free of charge.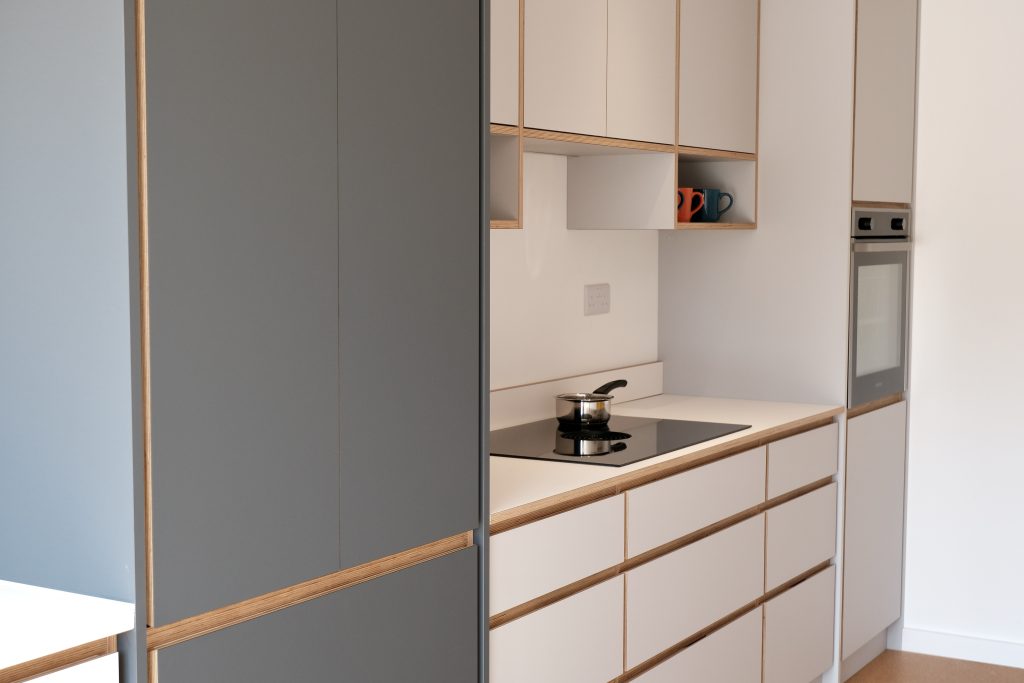 P.S. Did we mention how close our shipping container showroom is to Hever Castle? Why not make it a day trip and take a visit to Henry VIII and Anne Boleyn's old stomping grounds too.