From our energy consumption to our food choices, there are lots of things that go on in the kitchen that can make a surprisingly big difference to our environmental impact. But how much do we really think about this stuff when we're planning a new kitchen? The answer is: a lot! Here are just some of the ways we support our customers to create a truly sustainable kitchen design.
Energy-efficient appliances
One of the first steps towards an eco-friendly kitchen is considering the appliances you choose. In fact, when you're updating your kitchen, think about whether you need new appliances at all. Or perhaps your old dishwasher, for example, might have some life left in it?
The benefit, of course, with replacing old with new, is that technologies have improved rapidly. Newer models usually consume much less energy. But it's important to weigh up the pros and cons.
TIP: Look for models with high energy-efficiency ratings. These will not only reduce your carbon footprint but should save you money on utility bills in the long run.
Use sustainable kitchen materials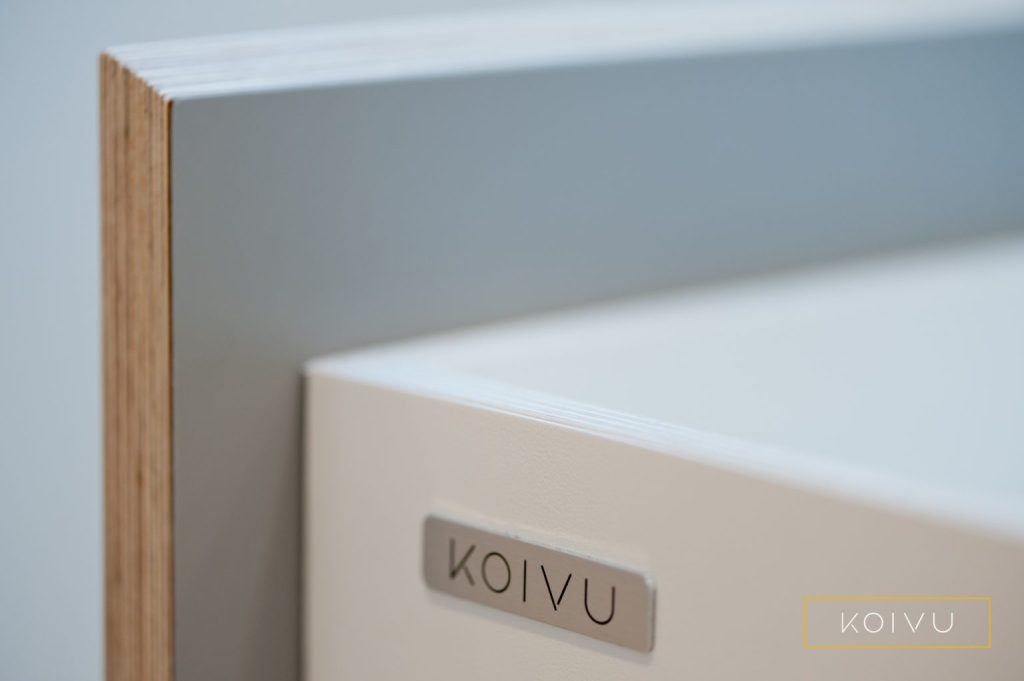 If it is time for an upgrade, make sure you choose eco-friendly materials for your kitchen cabinets and countertops. Here at Koivu we like to ensure we're never taking more from the planet than we're using. That's why we work only with sustainable birch plywood that is farmed and constantly replanted.
Not only that, our birch plywood is so durable it will last a lifetime – far longer than the average lifespan of a hard-working kitchen. Oh, and did we mention, we like to make doubly sure we're protecting our planet by making regular donations to a Woodland Trust scheme supporting the planting of new trees?
You can find out more about our approach to sustainability here.
Think about VOCs
VOCs, or volatile organic compounds, are emitted as gases. They come from much of the new wood, furniture and decorating supplies we bring into our homes. The bad news is that these VOCs are now known to have both short-term and long-term effects on our health. And not just that they damage the world around us too.
The good news, however, is that we've put the materials we use through rigorous testing. Because we wanted to make sure we can truly say we offer a low VOC option. And it's been confirmed, a Koivu kitchen produces some of the lowest VOCs of any kitchen on the market today.
Water conservation
Water is a precious resource, and conserving it should be a priority in any sustainable kitchen design. There are tons of options when it comes to taps or faucets, and our experienced designers will be happy to talk you through them.
Choose from low-flow faucets and aerators to reduce water consumption while washing dishes or cooking. And think about adding water filters or even carbonation units to your kitchen taps so you're reducing the need to buy plastic water bottles regularly.
Or what about a boiling water tap? That way you'll not only reduce the amount you're running the tap, but you won't need to use extra electricity or gas to boil the kettle to make your morning cuppa.
TIP: Make sure to only run the dishwasher when it's full and fix any leaks promptly to avoid water wastage.
Composting and recycling
We know from experience that the way a kitchen is designed can go a long way to helping people achieve their goals when it comes to recycling. Make it easy and you're far more likely to do it. A sustainable kitchen design should include designated spaces for recycling and waste sorting. These might look like separate containers under the sink, or a number of carefully labelled bins or containers in the utility room. Setting yourself up with a system for success is the best way to make it happen.
And reduce food waste too, by implementing a composting system in your kitchen. Composting not only diverts waste from landfills but also creates nutrient-rich soil for gardening. Get into the habit of tipping compostable materials like vegetable peels, coffee grounds, and eggshells into a separate little caddy to empty outside when it's full.
TIP: Avoid food wastage in the first place by storing leftovers and fresh goods in airtight containers. And choose beeswax wraps and reusable options instead of plastic wrap where possible.
Energy-efficient lighting
Replace traditional incandescent bulbs with energy-efficient LED lights. LED bulbs consume significantly less energy, have a longer lifespan, and emit less heat.
And as part of your design process, plan in task lighting in specific areas of the kitchen. This might mean pendant lighting over the breakfast bar and spots over the sink, hob and high work areas. Perhaps under unit lighting on a separate circuit will add a warmth then you've finished the washing up and want to relax without the glare of the overheads.
The goal here, for an eco-friendly kitchen, is to minimise unnecessary energy use while ensuring proper lighting for cooking and food preparation.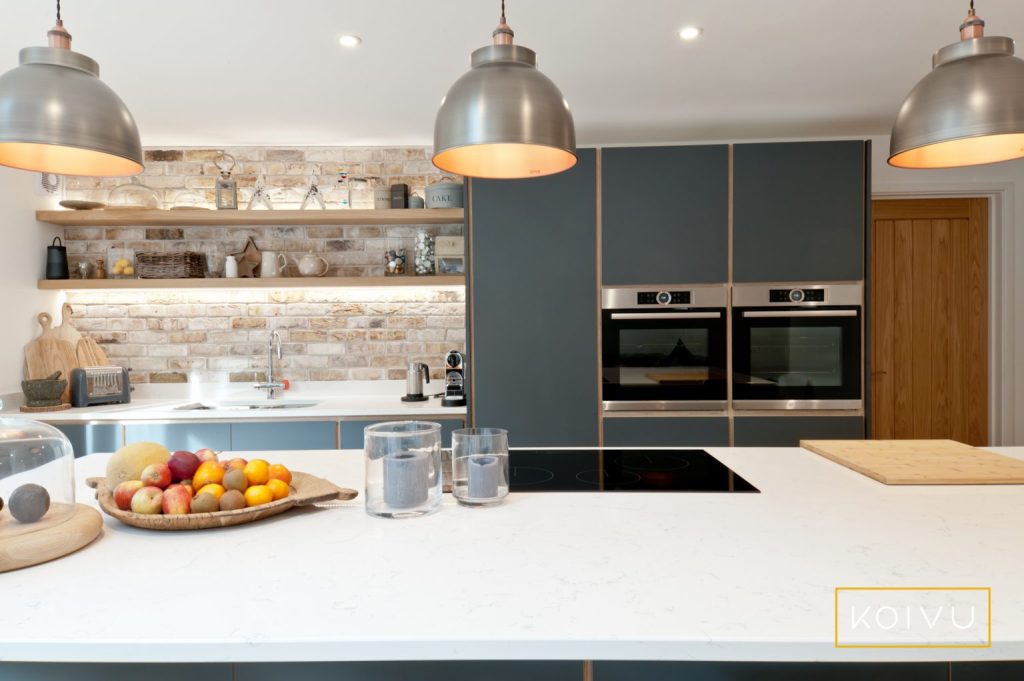 Need more advice? Our eco-friendly kitchen design experts are on hand to help you design a truly sustainable kitchen. Find out more.