5 Reasons we love plywood
With a recent report suggesting that the global plywood market will grow at 9.7% annually between now and 2023, plywood is increasingly being recognised for the wonderful, versatile material that it is.
This week on the blog we're sharing five reasons why you shouldn't look any further than plywood for your next kitchen project: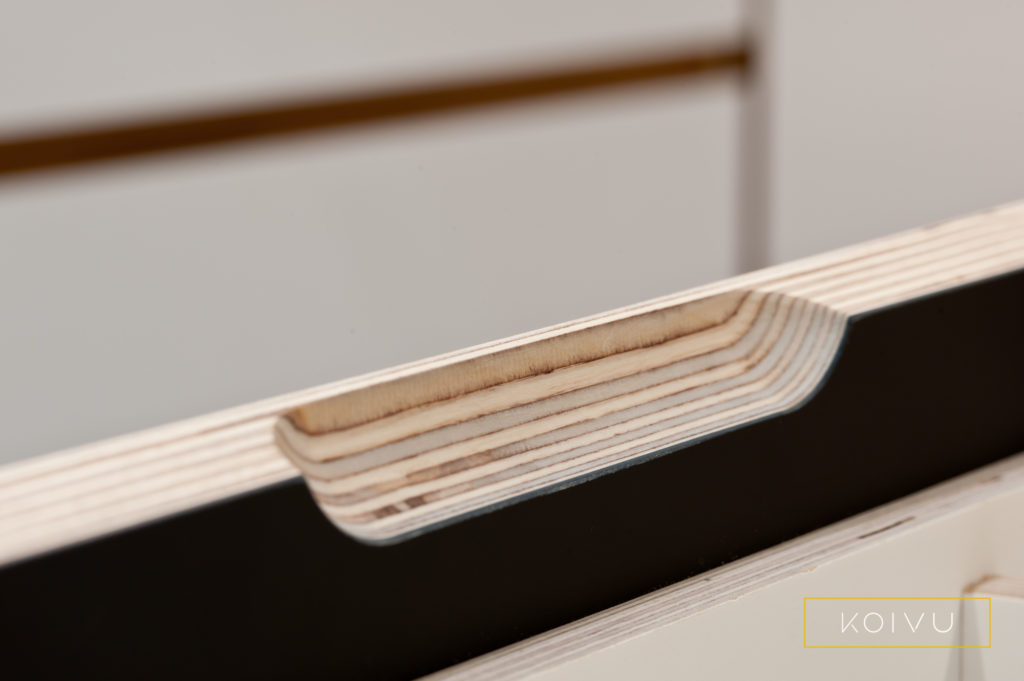 1. Plywood is beautiful
The main reason we like plywood so much is because of the way it looks. And indeed, the reason many of our customers choose a plywood kitchen is because of its stunning, streamlined look.
Plywood is engineered from layers of wooden veneers, or thin boards, that have been glued together at right angles to one another strengthening the material and leading to the thin stripes you see along the edges. But far from ruining the aesthetic, it's these natural wood colours that soften up the look of our kitchens, breaking up your chosen colour, balancing neutrals and toning down brights.
Plywood can make kitchen units feel more like pieces of furniture rather than uniform boxes, helping them to fit into a housing interior scheme better, particularly when part of an open plan room.
2. Plywood is environmentally friendly
There may be a huge focus on reducing single-use plastics at the moment, but more and more we're finding that consumers are looking for other ways to limit the impact they're having on the planet. They're becoming more mindful of the fact that the things we buy and use are created from valuable resources and will at some point become obsolete and need to be disposed of.
That's why choosing materials, such as plywood, that are produced from sustainable sources makes real sense. Our Finnish birch plywood is farmed specifically for commercial use so we can be sure that we're not contributing to the destruction of natural forests in the making of our products.
This makes it the perfect choice for architects or builders looking to produce eco-friendly homes as well as renovators who are concerned with making environmentally friendly choices.
Find out more about choosing a sustainable kitchen.
3. Plywood is strong
There is a reason that plywood is used in ship building, all types of furniture and even house construction. Because of its strength. By alternating the direction of the grain of the wood when creating the plywood's layers, manufacturers can ensure plywood sheets are able to carry a high load.
In fact, plywood is so strong we offer a guarantee of 25 years on all our kitchen components. A plywood kitchen will outlast most traditional kitchen materials meaning you won't need to change your kitchen as quickly. The units will also stand up perfectly to being removed and reused, so when it's time to get rid you can sell them on or reuse them in a workshop or garage.
4. Plywood can contribute to a healthy home
In a recent blog post we explored the topic of VOCs, looking at what they are, whether we need to worry about them and what we can do to reduce levels in our homes. In short, VOCs are toxins that are released from many materials and products that we use in our homes. Many of these have been proven to have both short and long-term health effects.
As people become increasingly aware of the fact that gases inside their homes could be having an impact on their family's wellbeing they are starting to search for less toxic, lower VOC options.
Thanks to the engineering processes and adhesives used, plywood has been proven to be a healthier option. In fact, our birch plywood kitchens have recently undergone rigorous toxicity tests to identify VOCs such as formaldehyde and were found to have some of the lowest levels on the market.
5. Plywood is water resistant
One of our potential customers came to see us at a trade show recently because she had something that she wanted to show us. Something we knew already, but it often surprises other people.
Having read that our carcasses are 100% waterproof and doors are extremely highly water resistant she had decided to test them out. She did this by placing one of the samples she'd received from us in a bucket of water for a few days. She was amazed to report that absolutely nothing had happened to it: no swelling, no splitting, nothing.
Which makes plywood a great choice for a long-lasting finish in kitchen cupboard interiors, on worktops, in utility rooms or even outside.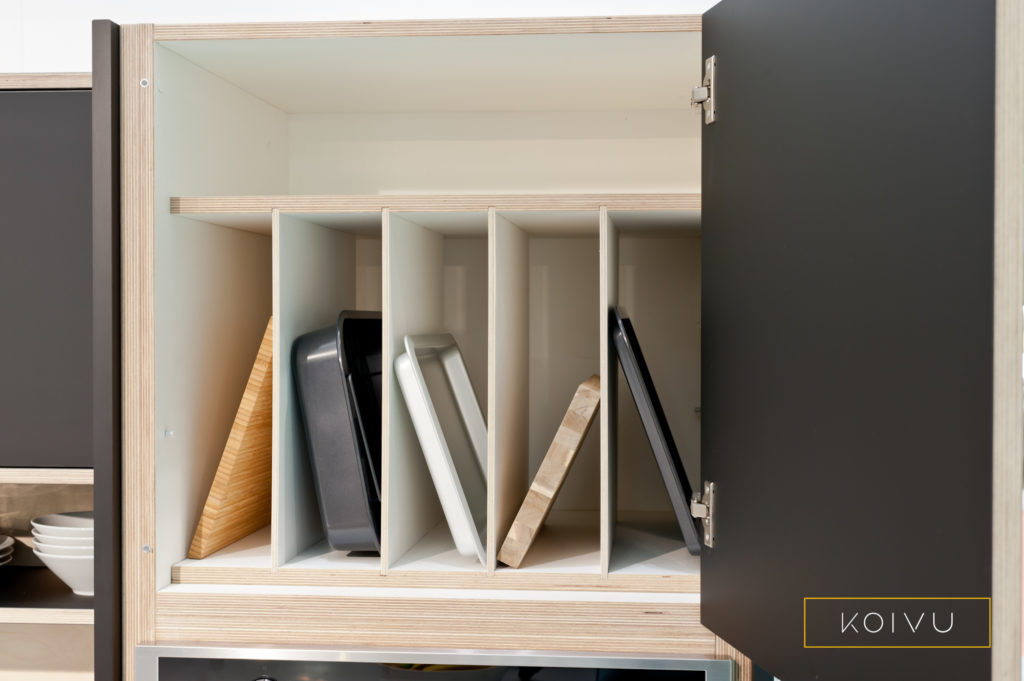 If you'd like to find out anything else about the sustainable birch plywood we use in the construction of Koivu kitchens please don't hesitate to get in touch. We could happily talk about plywood all day!