Creating a striking dark blue kitchen
We designed this beautiful dark blue kitchen as part of a new home extension. The client wanted an open plan kitchen living dining layout, so it was important that we incorporate some elements from the kitchen throughout the space.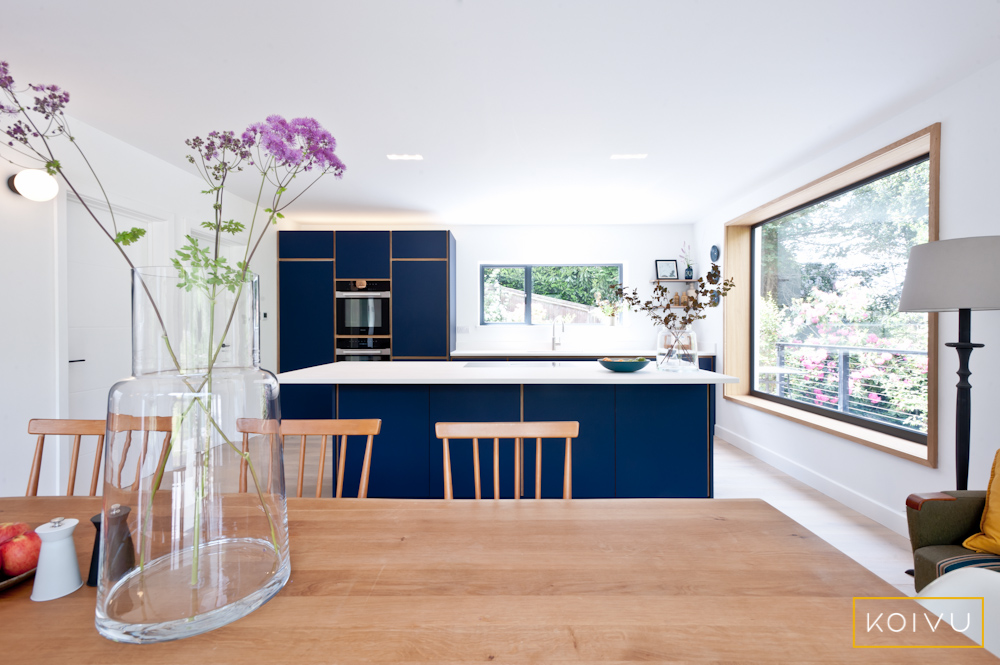 In particular, they gave us a brief for a bespoke drinks cabinet that would match the kitchen but sit comfortably in the dining room. There was also a small utility room, which they wanted to fit with matching dark blue kitchen cabinets.
Due to the open plan kitchen layout, the client was keen to have an uncluttered space without too many items sitting on the worktops.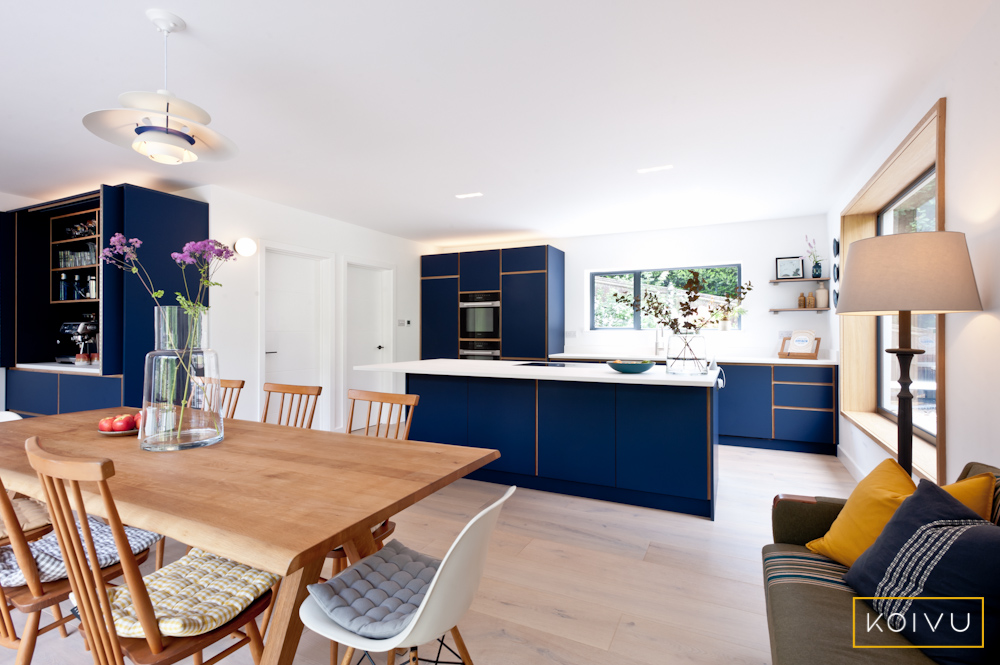 An open plan kitchen layout
This kitchen took a number of designs before the client was happy. As we started with a blank canvas and a very open space there were many possible alternatives. In order to help the client picture the room and make the right decision, we provided 3D images for each of the options.
The bespoke drinks cabinet, or butler's cupboard, also went through several iterations.
The kitchen layout that was chosen was for one run along the wall, with a large island providing seating for five. The bottom half of the drinks unit was made of fridge drawers next to regular drawers. The top half had pocket doors that opened completely to reveal a coffee machine. We also added bespoke designed shelves to provide plenty of space for spirits and glasses.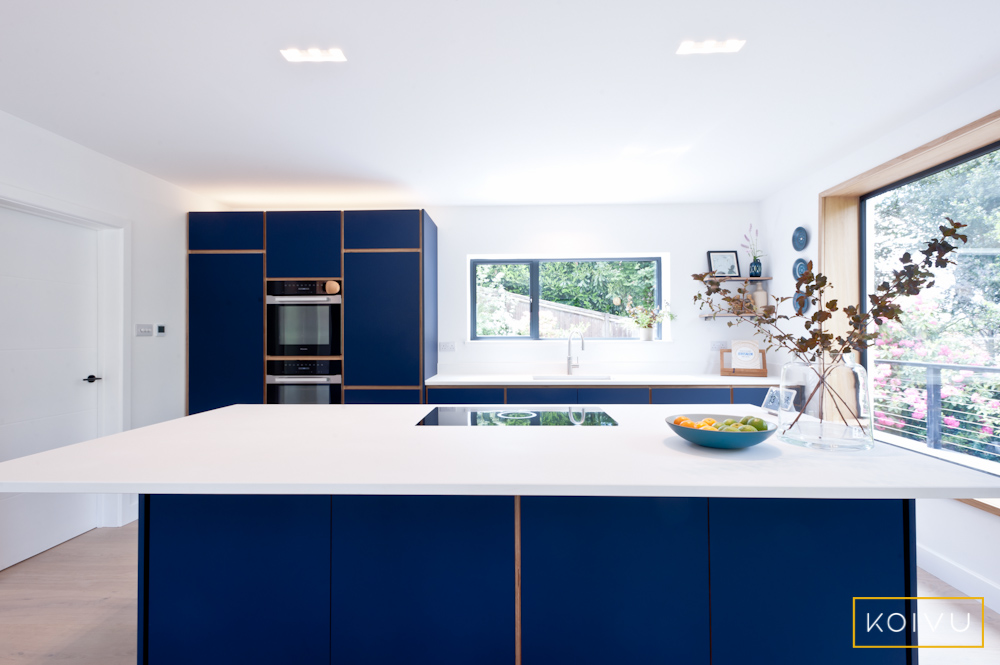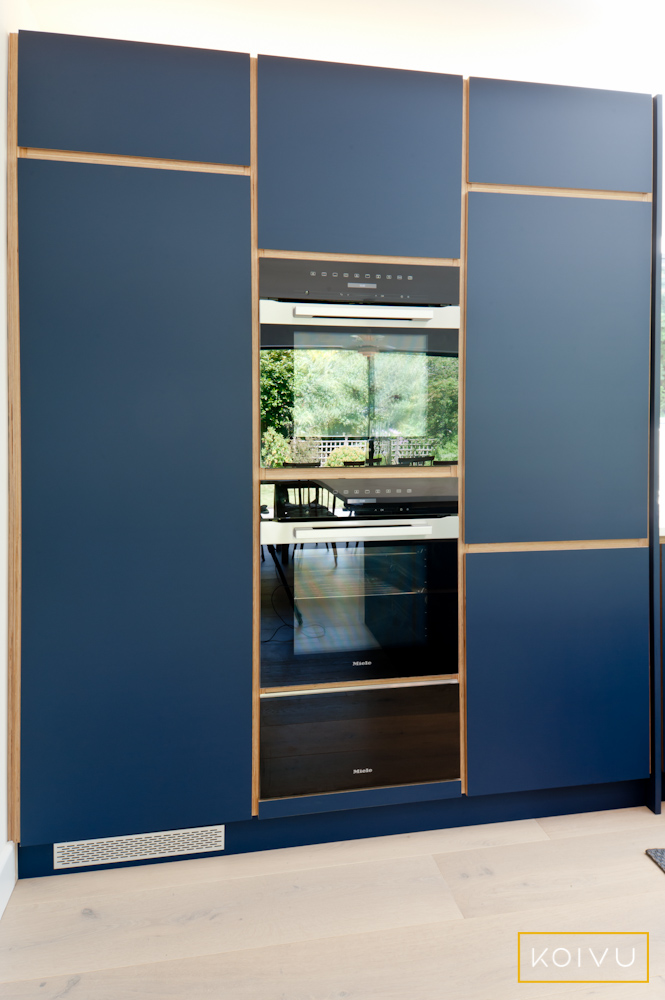 Bespoke design & appliances
The client chose integrated appliances, which meant we had to provide tall housings for the fridge and ovens. And to balance the lines of the design, we provided a third tall unit that houses small appliances such as the toaster and mixer. The sink cupboard is wide in order to house the boiling water tap mechanism and filter. While on either side of the sink, we put an integrated dishwasher and bins for easy access.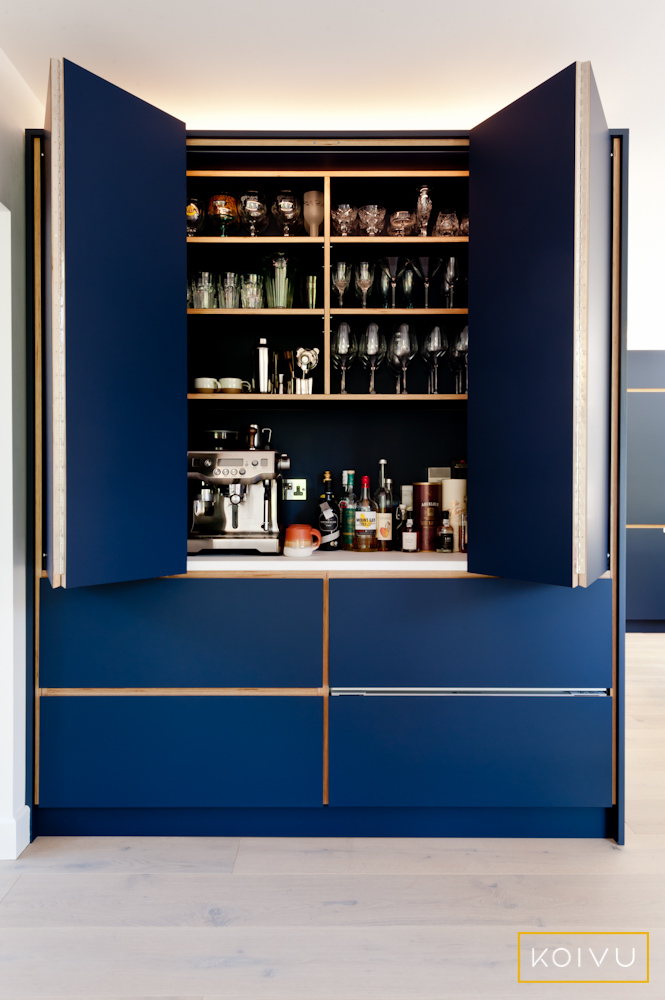 Looking for more dark blue kitchen ideas?
Take a look at this dark blue kitchen in Whitstable, that is entirely made up of lower level units, this light and airy kitchen in Dulwich with a large blue island, or this brighter blue and white design in Shotley.
Want to know more? Get in touch below and we'll send you out a sample pack.