Choosing the right kitchen worktop is vital to the success of your design.
But with so much choice, how can you work out which is the best material or style for you?
Read on for a summary of each of the most common types of kitchen worktop, and their key features:
Granite
Granite kitchen worktops are one of the most popular choices as they are stylish, hardwearing and beautiful. Granite is heat (up to 200C) and scratch resistant and is easy to clean. It is also naturally antibacterial, stain resistant and easy to maintain.
Be warned though, granite is very heavy, making it difficult to handle for installation. It can also be expensive.
Quartz
Quartz is a man-made alternative to traditional stone worktops like granite. Natural quartz is fortified with resin to create a hardwearing and contemporary looking stone work surface. It is naturally stain and scratch resistant, but is less heat resistant than granite, withstanding temperatures of up to 160C.
Quartz kitchen worktops are available in an unrestricted range of colours, but, like granite, can be expensive. They can have a range of finishes from shiny to a matte leather look, so can fit in with any style of kitchen.
Caesarstone and Silestone are two popular quartz manufacturers with beautiful colours inlcuding some concrete looking ones.
Hardwood
Hardwood has a lovely natural look and is naturally antibacterial. It is not heat resistant, so you should make sure you use a trivet. Hardwood kitchen worktops can easily become scratched or stained, but you can remove these by sanding and re-oiling. Hardwood looks beautiful in a contemporary or traditional kitchen, but is high maintenance, as it requires re-oiling twice a year.
Hardwood is a cheaper alternative to stone options and comes in a variety of wood grains and colours.
Laminate
Laminate is a cost effective and versatile worktop solution and has become the most popular option on the market. It is durable and easy to clean and comes in a wide range of colours. Laminate kitchen worktops are antibacterial, scratch resistant and easy to maintain. They also have heat resistance up to 180C.
We only use the best quality laminate bonded on plywood for the worktops we supply. Poor quality laminate can sometimes peel, burn or even melt, so always check with us before you buy.
Glass
Glass has only recently been introduced to the worksurface market. It is stylish, versatile and works perfectly in a contemporary design. It comes in many colours and can be made in any shape or size. It is easy to clean and hygienic and is also extremely heat resistant (up to 400C). Any scratches that appear can be polished out of the glass, so it will remain looking new.
The downside is that glass can be expensive and needs frequent cleaning to keep it smear free.
Solid surface composite – Corian, HiMacs, Hanex etc.
Composite kitchen worktops are made by applying an acrylic resin to the top of a substrate material like wood. This creates a seamless, glossy worktop that fits perfectly into any contemporary design. Composite worktops can be moulded and bent so the sink can be made from the same material, giving a lot of versatility. There is a range of colours to choose from, and they are highly durable and practically stain resistant. Scratches can be polished out and they have a good heat resistance up to 180C.
There are lots of colours to choose from and over the last few years, they have come down in price and are much more affordable. Check out some finishes here.
Stainless steel
Stainless steel is more common in the commercial kitchen sector, but is another choice for contemporary looking kitchens. It is strong and durable and highly heat resistant. Stainless steel worktops are naturally antibacterial and very easy to clean.
A tricky material to design with, stainless steel can sometimes have a cold, clinical look and can be difficult to integrate into large areas.
Lapitec or Dekton
These are new materials developed and introduced into the worktop industry in recent years. Lapitec is 100% mineral and similar to granite, but its structure is more like porcelain. Dekton is an ultracompact surface that consists of a sophisticated blend of the raw materials used and employs Sinterized Particle Technology.
They are both heat resistant up to 250C and is highly durable. They are resistant to UV light, acids, abrasion and scratches, so you can be sure either will be extremely long lasting.
The use of sophisticated technology to create these can make them expensive.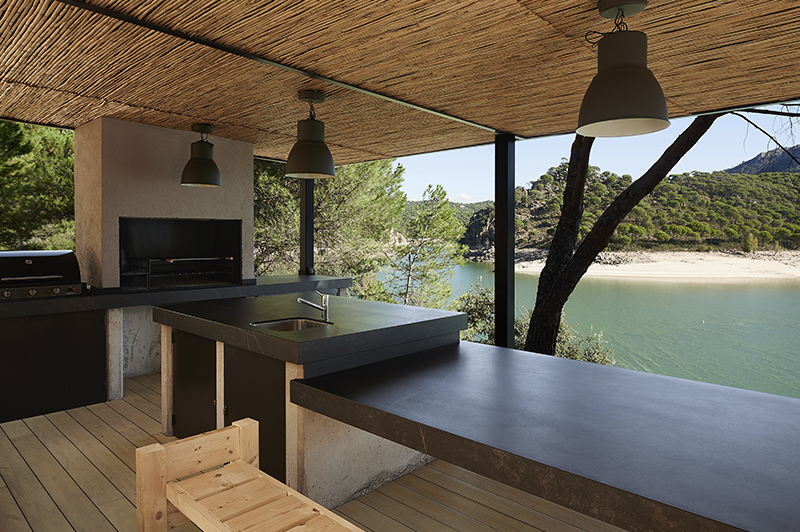 If you're wondering which type of kitchen worktop is best for you, make sure you visit somewhere that you can see a variety of work surfaces and run your hand over them. Your worktop is a huge part of your kitchen that you absolutely have to get right both practically and aesthetically.
As part of your kitchen design, we can supply Birch plywood laminate, solid surface composite and Quartz worktops. If you would like to talk about bringing your kitchen designs to life contact us.