Tips to help you stretch that big kitchen budget a little bit further
It's what everyone says they want these days, isn't it? A large open plan kitchen with plenty of space for entertaining, an array of spacious worksurfaces and appliances for every occasion. But all that comes at a cost. And everyone has a budget, even if it's a fairly generous one.
So, what if the money won't quite stretch to the vision you have and the space you need to fill? We've got some tips to help you stretch that big kitchen budget just a little but further.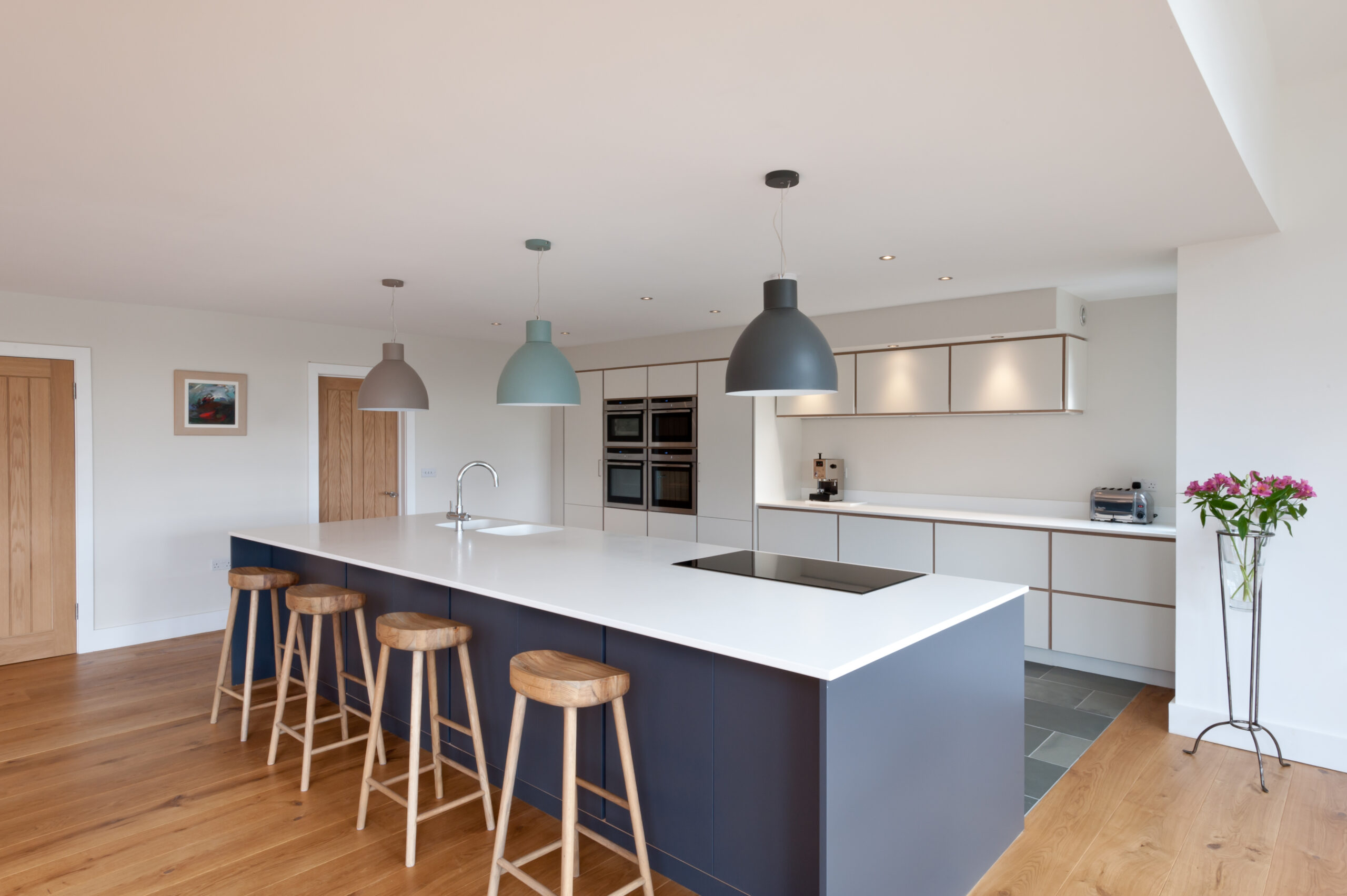 1. Fail to plan, plan to fail
Knowing how much money you have in the budget is only part of the jigsaw, if you don't start with a plan, costs can quickly spiral out of control. That's why we suggest your first step should always be to create a budget spreadsheet, even if it's a rudimentary one. And even if it has more blanks than numbers at the beginning.

Add a line for each item – don't forget to include costs of fitting, decorating, lighting and all the peripherals. Next add the figure you have available to spend, then immediately remove 10% and put it on a contingency line. You'll find most big home projects need some kind of contingency, for forgotten items or things that don't quite go to plan.
Finally, start working out the details.

You'll find more tips to help you budget for your new kitchen here.
2. The science of choosing appliances
They say buy cheap buy twice and that's certainly the case with appliances. Choose good ones, read the reviews, but really think about what you need versus what you think would be nice to have.
Is that second warming drawer really necessary? Or do you need the 3-in-1 water filter tap when a hot water tap is what you're actually after?
If your dishwasher will be integrated, does it need to 'match' your other appliances? Could you just go for a good solid brand that doesn't have the glossy brand name?
But think carefully before you pick cheaper appliances and make sure you check out their green credentials. You might find that over time that slighter higher-priced eco-friendly version can save you money, meaning it may be a better investment in the long run.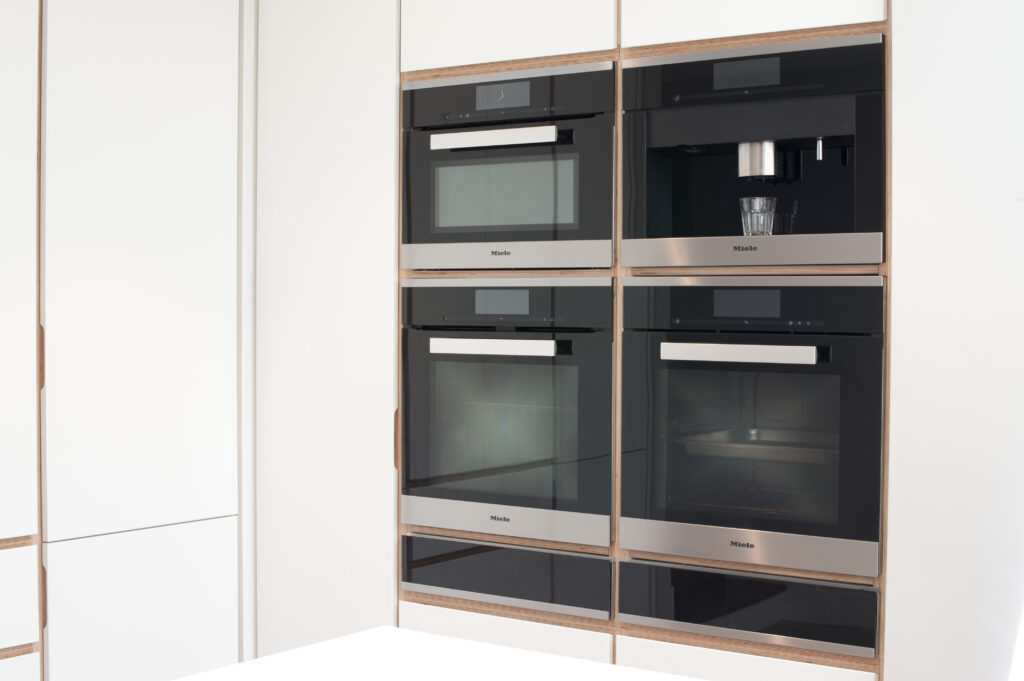 3. Can you handle this?
It may seem like a small thing (and may be stating the obvious), but if you choose a design that doesn't have handles you won't have to pay for handles. And you won't have to pay someone to fit them.
Count the number of cupboard doors and drawer fronts you're likely to have in your design and choosing not to have handles can actually mount up to a significant saving.
Our plywood kitchens can of course have handles, but the vast majority of our customers prefer the sleek, simple lines without. Our team will be happy to talk you through the different options available from push to open, to scooped handles, during the 'Choose' phase of our process.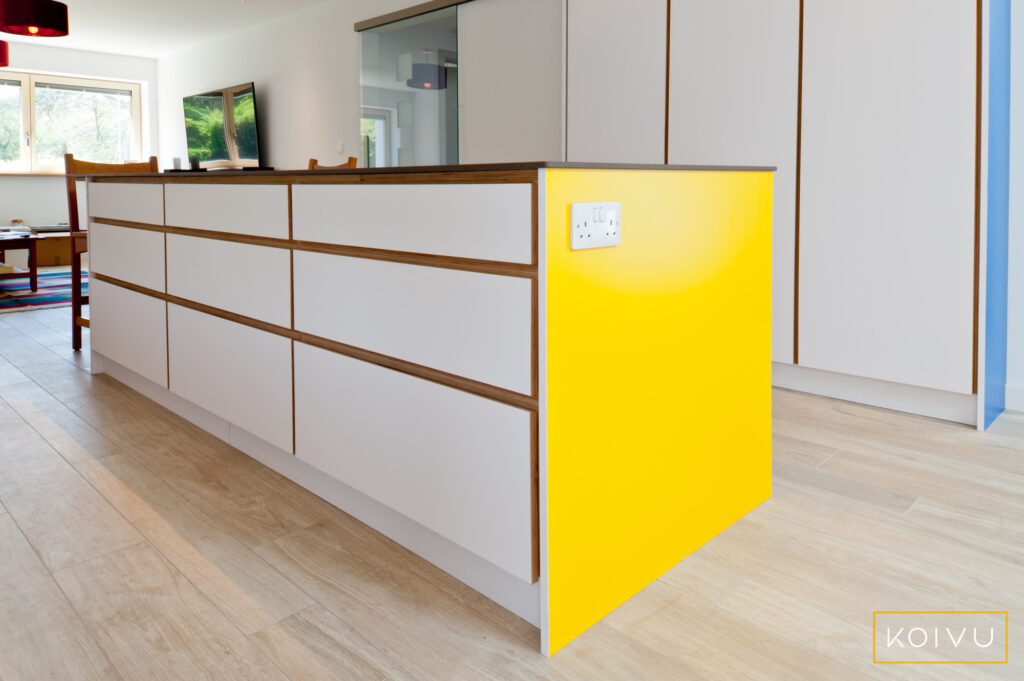 4. Must have? Or nice to have?
If things are getting a bit tight with the budget, consider deferring some of the spend.
Could you, for example, pay for the bespoke kitchen you want knowing it's the perfect design for the space, but leave the hand-crafted, diamond encrusted, triple pendant over island lights for now?
Or if you have chosen top of the range quartz for your kitchen worktops, could you save a chunk of the budget by covering the island or the utility in a cheaper but complementary option?
"One client we designed for wanted a cold marble workspace to work pastry but didn't want to pay a fortune to cover the whole kitchen. So, we designed a marble worktop into her hidden Butler's cupboard – perfect for baking, perfect for the budget!" – Douglas, Co-founder & head designer, Koivu
Ultimately, if you need to shed cost somewhere for now, work out which items of your kitchen could be collected and refined over time, and which need to be there from day one to make sure you can cook the family a meal.
Then prioritise budget accordingly.
5. Choose standard unit sizes
It should come as no surprise that kitchen companies find it cheaper to manufacture standard sized units, because they can make them with standard templates and standard machines. The positive is that you shouldn't have to pay as much for them making the overall cost cheaper.
But there are plenty of downsides to taking that standardised approach too. Standard sizes will often mean you can't make the most of the space in your kitchen, probably requiring filling panels to make sure everything fits perfectly. That will not only mean you lose cupboard or storage space, but you may not be able to line things up to create a truly aesthetic design either. Those cheaper standard sizes might, in the end, mean you're compromising on the kitchen of your dreams.
We might be biased but at KOIVU we really do believe bespoke kitchens are best.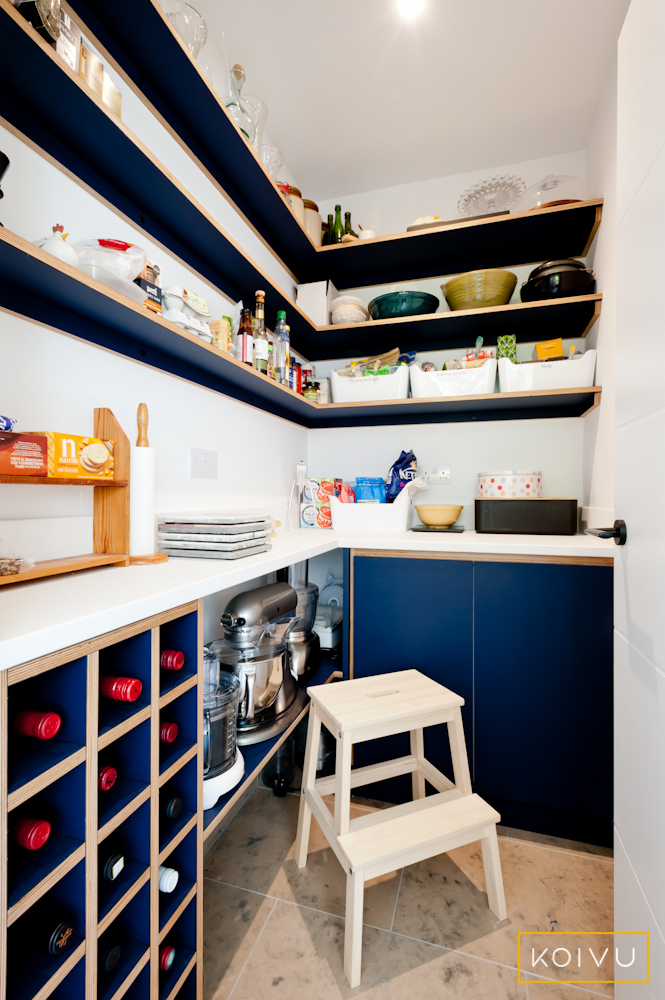 Want some more ideas to help you redesign your large kitchen? Why not get in touch with our talented design team?