If a new kitchen is on your to-do list for 2019, we've got some tips and ideas to help make sure the most important room in your home is bang on trend.
Create a room that's more than just for cooking.
Time was the kitchen was the domain of the cook, reserved for nothing but relentless bread making and meal preparation. But things have moved on significantly in the last few years. We now see the kitchen as, arguably, the most important room in the house. Somewhere to spend time together as a family, allowing a space for the kids to do their homework while mum or dad cooks the tea. Somewhere guests can mill around drinking, eating nibbles and chatting while the hosts create a slap-up meal using a range of exciting gadgets.
The way we use this room continues to evolve, meaning the way we design must keep pace. We're seeing the creation of separate areas within the one space. Perhaps a cosy wallpapered snug corner with bespoke cushioned benches and a compact dining table, a comfy arm chair and side table for relaxing with a good book, or a smart multifunctional island – part desk, part breakfast bar, part kitchen workspace.
What kind of room would you create?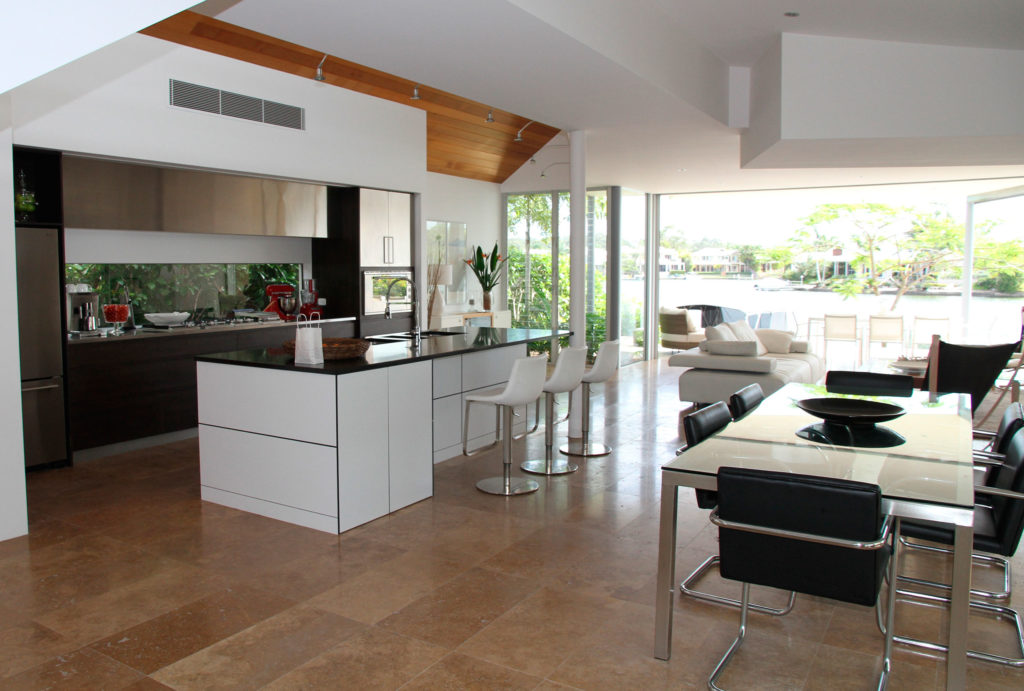 Opt for bolder colours and two-tones
While recent trends have been towards neutral colours – think white, cream, grey – change is on the horizon. Home renovators are becoming more adventurous. This can be seen in design trends generally as well as interiors. Pantone announce their colour of the year each year, choosing the colour they feel will dominate design trends over the next 12 months. And for 2019 they've chosen Living Coral. In recent years these Pantone colours of the year have been rather more muted. But this bold choice suggests a change in mood.
In terms of kitchens, we're unlikely to see mass market choices swing wildly in favour of bright, bold units, but there is a definite shift. Showrooms are now awash with sage green, black, navy and other blues as well as two tone choices – perhaps dark grey for bottom units and light grey uppers or an island designed in a different colour or material to the rest of the kitchen. In fact, the last three kitchens we fitted were black – a noticeable shift from the greys and whites we've been used to.
And don't forget, if you're feeling brave and fancy a bolder colour choice, Koivu can supply kitchens in a huge range of colours. Get in touch with us for more information.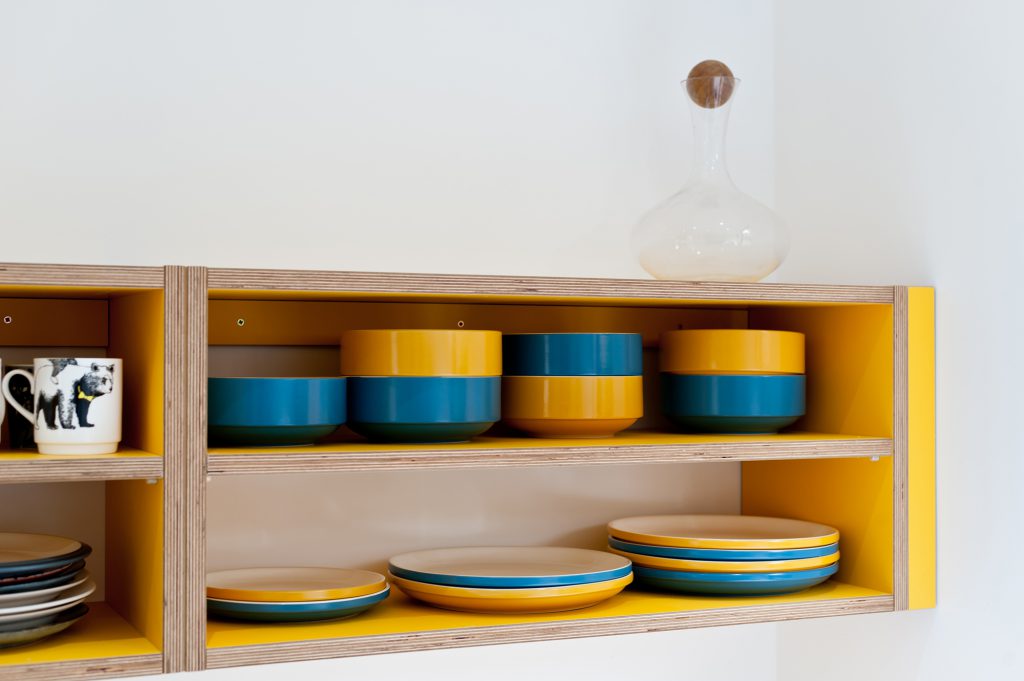 Use open shelving to introduce plants and treasured pieces
One interiors trend that's certainly not going anywhere is our love for all things green. Houseplants have been back in fashion for a few years now, and thanks to a growing number of great quality easy-care and fake varieties becoming available, it's simpler than ever to introduce some greenery into your home. And your kitchen should be no exception. From culinary herbs to trailing varieties, houseplants help a room to come alive.
And if you have any crockery or glasses that you're particularly fond of, why not display those too? Using open shelves as a feature in your kitchen will not only personalise your space and create interest, you might find reducing the number of upper units opens up the feeling of space too.
Add some statement touches
We're seeing a move towards personalisation through the use of statement finishing touches. Copper handles have been popular for a while now, available in all shapes and sizes to suit any taste. But we're seeing other finishes and textures introduced into design schemes to create unique looks. Textured concrete is big for creating an industrial feel, especially when teamed with copper or other metallic accessories.
Bold lighting choices, such as replacing traditional LEDs with multiple pendant lights to illuminate key areas such as a breakfast bars or dining area are being seen more and more, perhaps inspired by the popularity of this modern look displayed in the interiors of bars and bistros. And statement appliances are proving popular too. For something a bit different, LG has introduced as range of matt black stainless steel appliances that offer a striking contemporary feel to any kitchen scheme.
Designing to make life easier
There's no doubt our lives are becoming more hectic, we're forced to juggle work, kids and caring for older relatives as well as any hobbies and social activities we want to engage in. So, it's no wonder that we're finding it more difficult to find the time to produce hearty meals from scratch three times a day.
The trouble is, we're also becoming a lot more clued up on the dangers of processed foods and the ingredients of the ready meals we eat, which makes us all the more determined to provide healthy meals for our families. It's the modern professional couple's dilemma. But it's also the reason why a lot of the trends we're seeing are to do with saving time and boosting health. Time saving wonders such as hot water taps, steam ovens, and fast heating ovens are gaining popularity, while smaller gadgets such as bread makers, soup makers and mixers that allow quick, easy food prep as well as full control over ingredients are finding their place on the worktops of kitchens across the country.
We're also expecting technology to play a larger role in kitchen design over the coming years. With an increase in availability and decrease in price of appliances that connect wirelessly to smartphones as well as lighting that can be controlled quickly and easily via voice command.