How to design your kitchen for stress free Christmas Dinner prep
Now it's December we're not afraid to come out and say it: Christmas is nearly here. But if you're the meal-provider in the family, along with the excitement of the day itself comes an awful lot of hard work. So why not make those festive preparations easier by designing your kitchen to take some of the strain?
We can't promise magic elves to get the dinner ready for you, but these handy additions really are the next best thing:
1. Have boiling water on tap
Fed up of re-filling and re-boiling the kettle to fill all the saucepans required to cook 15 different veggies? With a boiling water tap you'll have all your pans filled and bubbling away in an instant. And when it comes to the gravy, coffees after the meal or even making mulled wine, your hot water tap will be ready and waiting to help you get it done quick and get back to that important Christmas Day job of relaxing.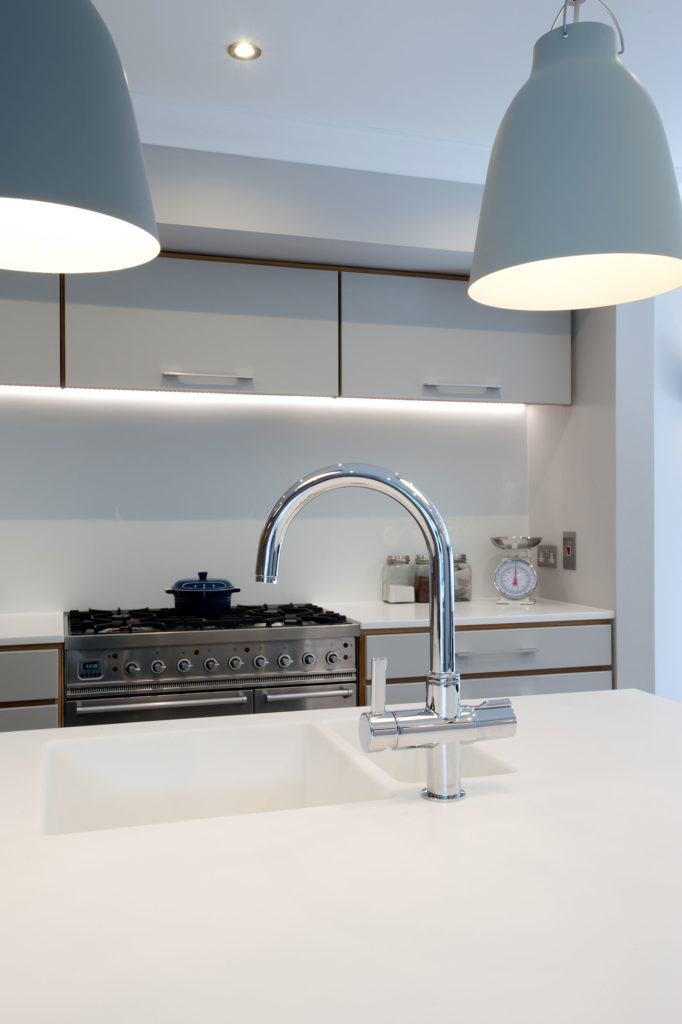 2. Keep your house smell free
If you've got visitors in the house or you live in an open plan space, you'll want to keep your home smelling fresh. Banish the stench of boiling Brussels sprouts by investing in a smart Bora Basic hob with in-built extractor. Not only are these beautiful to look at (reducing the need for an unsightly wall-mounted extractor), they work brilliantly too: clever technology uses a down draught to pull smells and grease particles away from the cooking area before they can seep out into the air. And what's more the extractor is really quiet, so you can be sure it won't ruin your Christmas morning rendition of The Pogues.
3. Keep the place tidy with integrated bins
Waste disposal might not be something you want to think about over Christmas, but with the whole family at home, presents to unwrap and extra food prep to be done, the festive period is a huge time for generating rubbish. Combine that with reduced refuse collections thanks to the bank holidays and before you know it your bins will be overflowing. That's why it pays to set yourself up with a rubbish and recycling system when you're designing your kitchen. With integrated bins your mess can be hidden away neatly and organised ready to be transferred to your outdoor recycling and rubbish bins later.
4. Choose an oven that will make life easier
Whether you have one oven or two, there will be times that you can't fit all the things you need to in at the right temperature. You want it roasting hot for crispy potatoes and cooler to keep the turkey moist, all at the same time, are we right? And that's before we get to the parsnips, stuffing, sausage meat, Yorkshire puds and vast number of other trimmings the family demands at Christmas. Step forward Samsung's new Dual Cook Flex Oven. This cleverly designed appliance allows you to heat to two different temperatures in the same oven, or alternatively offers a large 75-litre capacity for that king-sized turkey, complete with telescopic rails to allow you to pull it out for easy basting. What's more, with Wifi connectivity you can turn it on to pre-heat without having to set foot in the kitchen.
5. Get ahead with warming drawers
Whether you want to cook your carrots early, keep your turkey warm once it's carved or simply heat the crockery before the meal, a warming drawer can give you flexibility and better still buy you time. So, if Aunt Hilda hates it when her plate's too cold, you can make sure she has nothing to complain about except the cracker jokes this year.
However you choose to celebrate, and whoever you're with, we wish you a wonderful, relaxing Christmas meal from all at Koivu.