When Doug Sutherland, founder of Koivu, spoke at Grand Designs Live earlier this year, he shared advice from his 20+ years designing kitchens.
In part one of our recap we looked at budgeting as well as choosing sinks and taps. Here we continue with what to think about when it comes to choosing appliances that will help you cook up a storm.
Cooking
The ability to cook is a vital part of your kitchen and with so many different options available, it's something you'll need to give plenty of thought to.
Ovens
You could have a tower with a double oven or two single ovens along your base unit row. You might like a hob on your island or a standalone cooker that just slots into place.
A range cooker is often a sensible choice budget-wise, depending on the style you're going for. With two ovens, a warming drawer and an integral hob, you'll have all your cooking elements sorted in one go, knocking a chunk out of the cost at the same time. Think about how you like to cook. If you suffer from back problems an oven housed at eye level might be more comfortable, but it may be that when you're taking a baking tray out you prefer to be able to place it on top of a low-level oven. Really think about what you need – cooking appliances can use up anywhere from £300-£4,000 of your budget each – don't waste it on a warming drawer if hand on heart you're unlikely to use it much.
Hobs
These days your choice is likely to be between induction and gas – there are pros and cons either way. If possible talk to people who use each of these and get some real-life opinions:
Induction hobs are very controllable and efficient. Don't be scared of this technology just because you're not familiar with it. Remember though, that you will need to have certain pots and pans that work on induction. You can test the ones you already have at home using a magnet. If the magnet sticks to the bottom they will work on induction. Don't base your decision on this – new pots and pans are a small price to pay compared to the cost of the kitchen as a whole.
Gas hobs are very common and need to be fitted by a gas safe plumber. Any cooking that needs a naked flame, such as flambéing or cooking many types of Asian food will require a gas cooker.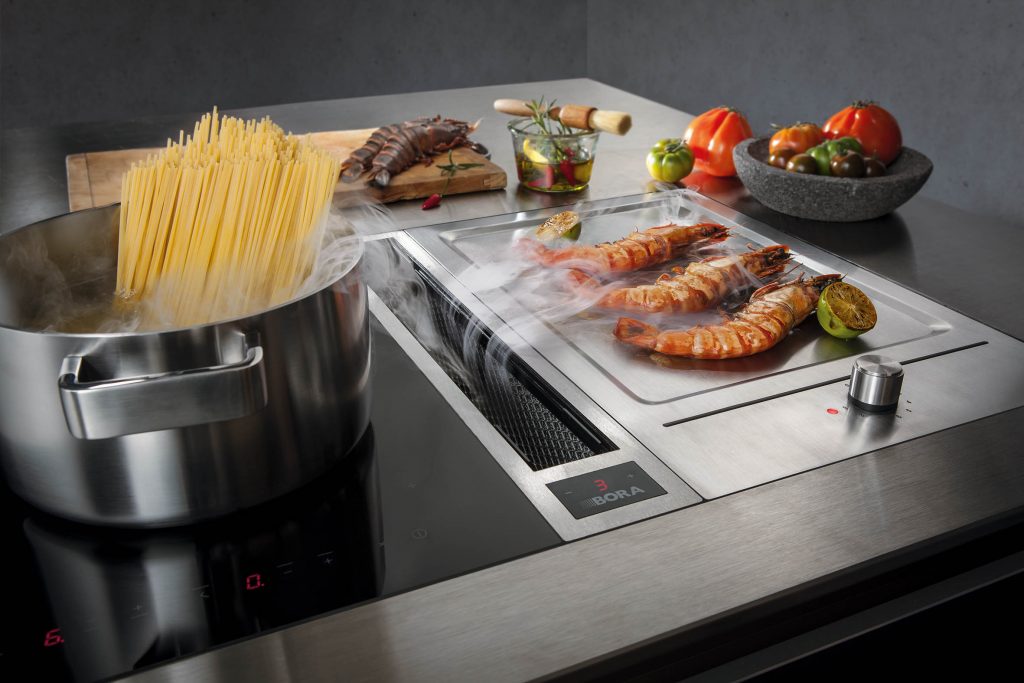 Extraction
We've seen a lot of change when it comes to extractor fans in the last few years. The fashion for having hobs on islands has meant new space-saving designs that don't interfere with the clean lines and open spaces of a modern kitchen design.
Pop-up extractors offer one way to get around this, coming up out of the worktop and drawing fumes down and away. These can be ducted to the outside depending on their position, or they can use carbon filters. Check the size of the carbon filters compared to the hob and think about whether they'll be big enough to remove the smells.
Ceiling extractors are the other option. They can remove more air however fumes have to get from worktop level up to the ceiling meaning there's a good chance that smells will spread.
Downdraught is the third option that works for gas or induction, but it doesn't come cheap. BORA's downdraught extractor works brilliantly to pull the steam down and away. If you shine a torch you can see it in action. If you have a hob in an island there really is no better way to go…depending on your budget.
Microwaves
Many people we speak to say they need a combination microwave, but they often find they only use the microwave part.
Steam ovens
Steam ovens are a healthy way of cooking with a reservoir of water that either drains or is plumbed in.
Whatever appliances you're thinking about, make sure you talk to friends and family to get a proper opinion. That way you can spend your money wisely on things you will actually use and enjoy.
Finally, think about how you use your sink. Do you need multiple bowls? What kind of draining board do you prefer, and on which side of the sink?
If you are designing your own kitchen browse our blog for help and advice from the experts.
Check back in one week for part three: How to design your kitchen: Worktops & units