If we say the words 'outdoor kitchen' what do you think of? Hot, humid climates, people dressed in swimwear dipping in and out of their private pool and sunning themselves before rinsing off in their open-air shower?
Perhaps. But you really don't have to live in the tropics to get the best from an outdoor kitchen. Design it right and you'll enjoy a wonderful outdoor social space to gather together with family and friends. Almost like adding another room to your home.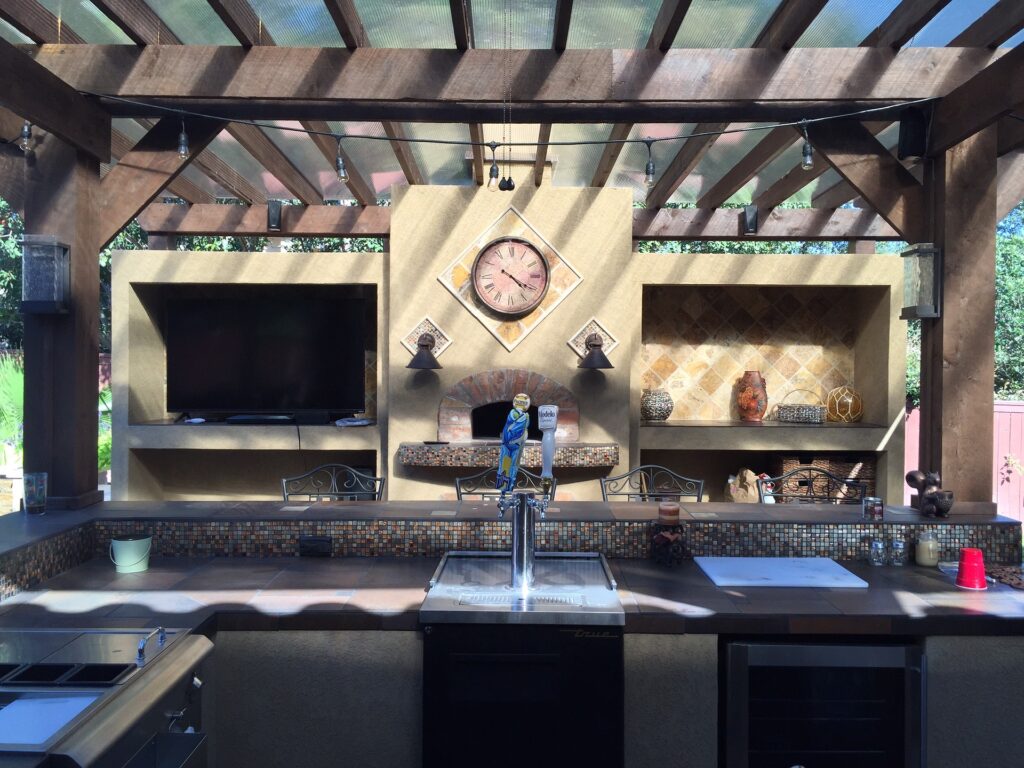 What is an outdoor kitchen?
In its simplest form an outdoor kitchen is a space to prepare meals outside, but take a quick dip into Pinterest and you'll soon realise there can be a lot more to it than that.
Even a small space can be transformed to make a little BBQ area with units and drawers so you can keep everything close at hand, or a prep area so you can enjoy the open air while peeling the veg for dinner. Add in a sink or rack to hang cooking implements, make sure you surround the area with pretty lighting and greenery, include seating for your nearest and dearest to relax while you're cooking up a storm, and you'll soon find you've created an outdoor space that's uniquely you.
What's more, it'll put you in a holiday mood whenever you venture into it.
How to design an outdoor kitchen with style
An outdoor kitchen can be as simple or as over-the-top as you want to make it, but we've compiled a list of just a few of the things you'll need to consider if you fancy going ahead with one:
Think about cover – The UK climate is, as we all know, notoriously unreliable, so if possible it's worth creating a cover over your designated outdoor kitchen area, to ensure you can use it as much as possible. We've seen everything from simple canvas that pulls out from the wall to a 'roof' woven from reeds with steel supports at the sides. Or if you're undertaking a building project anyway why not design in a concrete canopy to keep you dry?
Use natural materials – When you're designing outdoors, we always think it's better to use natural materials that won't stand out and create an eyesore. Think wooden finishes and plants integral in the design. This will help everything blend in with your overall garden scheme.
Consider warmth and lighting – If you want to be able to entertain during the evenings it is vital to think about warmth and lighting when you're creating your design. You can go for anything from a simple fire pit and delicate fairy lights, to wired-in downlighters and patio heaters. Be aware, however, that patio heaters are extremely damaging to the environment, so if you must go down this route ensure you research the more eco-friendly technologies that are now available and only use when absolutely necessary.
Think about where your seating area will be – Obviously a seating and eating area is a vital component of an outdoor kitchen, but make sure you plan it out carefully. Consider the predominant wind direction so you don't end up covering your guests with smoke and make sure you can see and chat to your visitors easily from the prep area you create.
Hide things away to keep it tidy – Don't forget to design in drawers and storage so you can keep implements specifically for outdoor use. You don't want to be running in and out of the house to grab things. But on the other hand you want to make sure everything can be tidied away safely at the end of the evening and not be left at the mercy of the elements.
Consider cooking options – Just because this is an outdoor area, doesn't mean it has to centre around a barbecue for all the cooking. Why not add in a mini pizza oven or hot plate, or a camping style gas stove to give yourself a variety of different tools?
Choose materials that will stand up to the elements – We are firm believers in building things to last. Make sure any materials you use to create your outdoor kitchen will stand the test of time and UK weather. Plywood doesn't warp or expand when it gets wet making it a great and cost-effective choice when you're creating a kitchen outdoors.
Worried it won't work?
Are you too nervous to go all in on an outdoor kitchen? Why not try a design that simply elongates your current kitchen, creating an indoor/ outdoor space to be enjoyed?
With an open plan arrangement, bi-fold doors that almost disappear and complementary flooring that carries through both areas, when the days are warm, you'll be able to throw open those doors. Close your eyes and you'll feel like you're cooking outside even when you're not…quite.
If you've got grand designs on an outdoor kitchen but you don't know where to start why not get in touch? The beauty of our bespoke design process is that it can work in any environment. We can work with you, your architect or your interior designer to create something that is as beautiful as it is functional in any season.hy not get in touch and tell us if there's anything else you'd like to know about Koivu or if you're interested in hearing more about the way we work.