Appliances in focus: Extractors
We've recently discussed the trend for kitchens to become multi-use open-plan spaces, but this brings with it challenges when it comes to shielding guests from the mess and smells associated with cooking.
One appliance that's become an important part of this battle is the kitchen extractor fan or extractor hood. Traditionally large, stainless steel and noisy, or integrated (and noisy!), extractors have come a long way in recent years.
And it's a good job too as kitchen designers are asking much more from them. Not only do we expect them to get rid of unwanted cooking odours and excess condensation, but we want them to look good while doing it.
So, what are the options when it comes to extractors?
From chimney style cooker hoods that are designed to fit flush to the wall to downdraught extractors that stay hidden when not in use, there are a range of different options depending on your budget, your requirements and the design of your kitchen.
Wall mounted extractors – If your hob is set along one side of your kitchen you may wish to attach your extractor to the wall. You can choose from slimline chimney hoods, conventional canopy cooker hoods or 'hidden' integrated extractors that won't interrupt the lines of your kitchen. For an interesting modern, minimalist look try this Cube design from Neff.
Ceiling mounted extractors – While you could choose a ceiling mounted cooker hood in place of a wall-mounted one above, the real benefit of an extractor that comes down from above is if your kitchen design places your hob on an island. Ceiling designs range from robust stainless steel and glass designs of varying widths to those that sit flush in the ceiling – see these from Siemens, often including LED lighting to make a beautiful design statement.
Downdraught extractors – Downdraught, or pop-up, extractors offer one way to get around this, coming up out of the worktop at the push of a button and drawing fumes down and away. These can be ducted to the outside depending on their position, or they can use carbon filters. Check the size of the carbon filters compared to the hob and think about whether they'll be big enough to remove the smells.
Extraction built in to the hob – High-end brands such as BORA, Miele, and Luxair have revolutionised kitchen extraction by creating downdraught extractors that are simply built into their hobs. This creates seamless integration between hob and extractor, meaning effective removal of fumes and absolutely no compromise to the kitchen design scheme.
Which type of extractor will work best for me?
There are a number of considerations when you're choosing a kitchen extractor or cooker hood.
The first is the location of your hob. This will determine whether a wall mounted design will work for you, or whether you need to consider other options. If your hob is on an island, you may have an opinion about whether you feel a low hanging ceiling mounted cooker hood will work for your design, or if you would prefer something less obtrusive.
Remember, in an open plan space it's important to consider the effectiveness of the extractor in ridding the area of smells. You will need to ensure the extractor you choose is powerful enough to draw fumes towards it – you may find that if the extractor is situated high above your hob there is opportunity for steam and odours to escape before they reach it. In most cases the cooker hood you choose will need to be the same width as the hob that sits below it to make sure it catches as many of the cooking fumes and gases as possible.
You will also need to determine whether your extractor can vent to the outside or not – this is known as ducting and allows the extractor to remove air from your kitchen to the outside of your house. If, for instance, you live in a flat or there is no clear route to the outside from the location of your cooker hood, recirculation is an option. Many types of extractor will give you the choice of either, but you will need to discuss this with your fitter.
Ultimately your choice of extractor is likely to come down to design preferences and the amount you want to spend.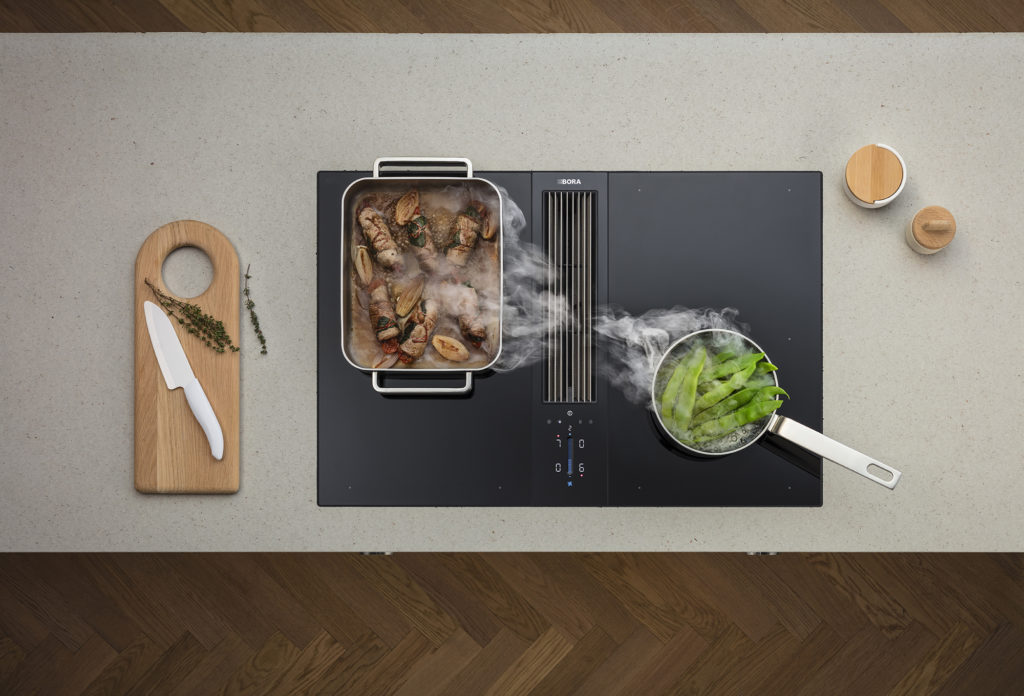 Koivu recommends…
The fashion for having hobs on islands has meant new space-saving designs that don't interfere with the clean lines and open spaces of a modern kitchen design. So it stands to reason that our favourite extraction option is the most design-friendly of the bunch.
We don't sell many appliances, but one of the few we do sell is the BORA induction hob that includes a downdraft built-in extractor to pull the steam down and away. Even though other companies now offer a similar hob, we believe the Bora hob is the best on the market – they were the first to come up with this idea, they have over 50 patents on their extractor system, and importantly, they only make hobs. If you have a hob in an island there really is no better way to go.
For all other styles of kitchen extractor, we recommend British cooker hood specialists Westin. They offer plenty of choice, and with wonderful customer service too.
If you need any more advice about choosing a cooker hood or you'd like more information about the BORA induction hob with downdraught extraction, please get in contact.